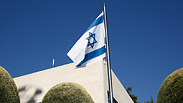 Israeli embassy, Athens
Photo: Proto Thema
The dramatic budget cuts facing the Foreign Ministry were significantly softened thanks to efforts by the ministry's Director Yuval Rotem who singlehandedly battled the Finance Ministry.

Most governmental departments issued statements celebrating increases in their annual budgets, but the Ministry of Foreign Affairs was the only one to not only not receive an increase, but have its budget severely cut.

The Finance Ministry insisted that the funding for certain projects, some NIS 40 million, be deducted from the Foreign Ministry's budget, but the latter still hopes to convince the treasury to use funds from another source. The two sides agreed to continue negotiations until the end of the month.

Instead of the initial plan that would have seen 22 Israeli embassies and consulates closed, it was decided to close only seven, beginning in 2019. It has been decided that the Foreign Ministry will decide on what will be cut, while Prime Minister Benjamin Netanyahu, who is also the Foreign Minister, will make the final decision.

The missions most likely to face closure are those in Belarus, Dublin, Asmara, Atlanta, Santa Domingo, Bangalore, and Vilnius or Riga.

In return for the closings, the Foreign Ministry is to receive a budget increase of NIS 175 million for its activities. That would be a considerable increase over its current budget of NIS 82 million.

Most of the ministry's annual 1.6 billion shekels budget is non-negotiable as it covers rent, salaries and vehicle allowances, leaving a considerably small percentage of the budget for activities.

Rotem was successful in talking the treasury out of its plan to cut 140 positions at the Foreign Ministry's offices in Jerusalem. However, it will still have to terminate 50 positions as part of across the board manpower cuts at all ministries.

The ministry will work with government agencies to encourage early retirement alongside other efficiency increasing measures including encouraging staff to go abroad.

During the last few years, ministry staff have been reluctant to accept positions abroad for reasons relating to salary and the difficult toll it takes on an envoy's spouse. Often, there is great difficulty finding a candidate for positions that need to be filled.

Closing missions abroad, whether embassies or consulates, significantly weakens the mission of the Israeli foreign service, especially at such a challenging time for Israeli public relations which must combat the Boycott, Divestment and Sanctions (BDS) campaign. In the past, closings have always been regretted retroactively as Israel ended up paying a price for them.

Sources at the ministry say they are still hoping for a complete reversal of the finance ministry's plans and are hopeful that in the event of early elections and the appointment of a new minister, the cuts will not be allowed to be implemented and all 103 Israeli consulates around the world will remain open.