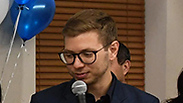 Yair Netanyahu
Photo: Haim Zach/GPO
The private security firm Modi'in Ezrahi filed a complaint with the police on Sunday against a security guard who they claimed to have illegally recorded the prime minister's son, Yair Netanyahu, back in 2015, when he was under their employment.

The police confirmed the details and said that an investigation had been opened.

A representative of the company noted in the complaint that there is a possibility that an external device was inserted into the car, making it a secret, and illegal, recording.

Since the exposure of the recording, criticism has been leveled at the security company, which won the tender to staff the guard unit in the Prime Minister's Office to secure the sons of Netanyahu and other ministers.

It is quite possible that the complaint was filed as part of the company's desire to clear its name.

In the recording, aired Channel 2 News last earlier this month, it was revealed Yair Netanyahu visited a strip club with his security guard and driver in tow, accompanied by his friends—one of which was Ori Maimon and another was Roman Avramov, who works for Australian billionaire James Packer who provided testimony on the illicit gifts affair.

Yair can be heard telling Maimon that he has to "hook him up" with 400 NIS, which he later said was for soliciting a prostitute.

"Bro, my father cut a great deal for your father. Fought for it in the Knesset, bro," Yair is heard telling Maimon. "My father set you up with $20 billion, and you can't even hook me up with a show for NIS 400?" he added, laughing.

The conversation was recorded during discussions on gas drilling licenses. Kobi Maimon had a vested interest in the draft agreement formulated by the government being implemented due to his ownership of one of the companies partnering in the gas project.

Commenting on the tape's publication, Yair Netanyahu apologized for his "drunken nonsense," saying it doesn't represent who he is and dismissing any claim that what he said regarding the natural gas regulation agreement was anything more than banter.

"This evening, I watched a shameful yellow article that presented illegal tapes from a conversation I had two and a half years ago," he said.

"In the conversation, under the influence of alcohol, I said some nonsensical things about women and other drivel that should not have been said. These things do not represent who I am, the values I was raised by or what I believe in.

"I regret it and apologize if anyone is hurt by them."

His father, Prime Minister Benjamin Netanyahu, also addressed the incident: "My son Yair rightly referred to his comments as 'nonsense.' He did it under the influence of alcohol, and he apologized for it," Netanyahu said at a lunch with NATO ambassadors.