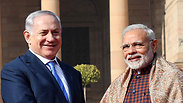 Netanyahu with Indian PM Modi
Photo: Avi Ohayon/GPO
Netanyahu: Dawn of new era in Israel-India friendship
Prime minister accompanied by cavalry to India's presidential palace, where he examines a ceremonial guard of honor and lays wreath at Gandhi's memorial; this visit is 'deeply moving for my wife and me and for the entire people of Israel,' Netanyahu says.
Prime Minister Benjamin Netanyahu Monday inspected a ceremonial guard of honor at India's presidential palace and laid a floral wreath at the memorial of India's independence leader Mohandas Gandhi during his first visit to the country.

Netanyahu, who was accompanied to the presidential palace by cavalry, is scheduled to meet with Indian Prime Minister Narendra Modi later Monday to discuss defense, trade and energy ties.

"This is the dawn of a new era in the great friendship between India and Israel," Netanyahu told reporters at the presidential palace.


He described the visit as "deeply moving for my wife and me and for the entire people of Israel."

The visit marks 25 years since India and Israel established diplomatic relations. Last year Modi visited Israel, becoming the first Indian prime minister to do so.

During the Cold War, India didn't have open relations with Israel, leaning heavily in favor of the Palestinians. But over the last 25 years, ties between the two countries have warmed.

Cavalry accompanies Netanyahu to the presidential palace

Netanyahu arrived in New Delhi on Sunday and was met on the tarmac by Modi, who engulfed the Israeli leader in his trademark bear hug.

But the visit also comes weeks after India's vote in favor of a UN resolution denouncing President Donald Trump's recognition of Jerusalem as Israel's capital.

Netanyahu told India Today magazine in an interview over the weekend that while Israel was disappointed by India's vote, the relationship between Jerusalem and New Delhi remained strong.

"Yes, naturally we were disappointed, but this visit is a testimony that our relationship is moving on so many fronts forward," Netanyahu said.

During Netanyahu's six-day visit Israel and India are expected to sign agreements on cybersecurity, energy and space cooperation, according to India's External Affairs Ministry.

A large Israeli business contingent is travelling with Netanyahu and on Monday evening Netanyahu will attend the India-Israel CEO Forum Meeting.

Netanyahu's schedule includes a visit to Agra, to visit the Taj Mahal, and to Gujarat, prime minister Modi's home state. He will also visit India's business capital Mumbai where apart from meeting business leaders he is also slated to meet with the leaders of India's tiny Jewish community.