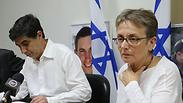 Simcha (L) and Leah Goldin
Photo: Motti Kimchi
Israeli policy on medical permits for Hamas personnel, families toughened
Responding to High Court petition by family of Hadar Goldin, whose body is held in Gaza by Hamas, state replies policy regarding providing medical entrance permits to Hamas activists and their families was made stricter, but permits for life-saving permits remain in place; petition also seeks to prevent visitation of Hamas prisoners held in Israel, return of Hamas terrorists' bodies.
The state submitted its complete response to a High Court petition made by the family of Lieutenant Hadar Goldin, the IDF soldier whose body is held by Hamas in Gaza, saying it intended to make stricter policy providing entrance permits to Israel for Hamas activists and their families for medical treatment.

Qualifying its statement, however, the state added that, "A comprehensive ban on admitting Hamas activists and their families to Israel for medical treatments will not include life-savings treatments."

The state's reply further said that, "The Cabinet's decisions on permitting entry to Israel on humanitarian grounds was implemented only partially until recently, since the Coordinator of Government Activities in the Territories—tasked with providing said permits—did not have the full data of Hamas personnel and their families, and thus could only partially prevent the entrance of those identified in its own databases."

"The head of the National Security Council has determined that the binding interpretation of the Cabinet's decision will henceforth be that is applies word for word to people who—according to security forces' information—are affiliated with Hamas, as well as their first-degree relatives, in accordance with any applicable legal restrictions."

The Goldin family's petition also demanded that visitation of families of Hamas prisoners held in Israeli jails be halted completely and that no bodies of Hamas terrorists or affiliates be released for burial.




The Goldin family commented on the state's reply, and said, "This is a small step in our larger mission of retrieving Hadar, a hero who fell in combat during Operation Protective Edge. We have no desire to defeat the Israeli government in court. We only strive to achieve victory of Hamas and the return of Hadar and Oron (Shaul, another soldier whose body is held by Hamas—ed) home."

The Goldin family was represented in court by attorney Oded Savorai, who said, "It's a shame the Israeli government needed the Goldin family's petition to the High Court to notice the Cabinet's decisions were not being implemented. We expect the government to issue a binding order to also promote decisions on prisoner visitations and returning of terrorists' bodies."