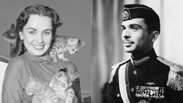 Cabot (L) and a young King Hussein
CIA set up King Hussein with Jewish film starlet
Recently unclassified documents relating to JFK assassination reveal CIA arranged for Jordan's King Hussein to meet Jewish American actress Susan Cabot; two allegedly had an affair, and rumor has it Cabot's son—who later murdered her—was Hussein's illegitimate child.
The Central Intelligence Agency (CIA) arranged a meeting between the late King Hussein of Jordan and Jewish-American actress Susan Cabot, a date that led to a relationship lasting several years, recently unclassified documents relating to the assassination of former president John F. Kennedy revealed.

The CIA had a former Federal Bureau of Investigation (FBI) agent named Robert Maheu arrange the meeting between the two, with the king meeting the actress in a gala dinner thrown by Maheu.

The CIA then rented out a beachside residence in Long Island where Hussein stayed later in his visit, with the Agency making sure Cabot stayed at an adjacent hotel under an assumed name.

The affair between the Jordanian monarch and the Hollywood star lasted several years, rumors said, adding the son Cabot had in 1964—Timothy—was Hussein's. Timothy Cabot beat his mother to death with an iron rod in 1986, and it was made public during his trial for her murder that up until her death, King Hussein would make monthly deposits of $1,500 to her account.

According to the CIA's document, Maheu was asked to find "female companionship" for an "official visit by a foreign head of state" in April 1959. The date lines up with King Hussein's visit to the US. He was 23 at the time.

The US had a vested interest in keeping the monarch happy, as Jordan was considered a potential ally in the turbulent Middle East and American officials were impressed with his leadership.

Cabot, born Harriet Shapiro to a Russian Jewish family, was considered by the CIA the means through which they will achieve their aims. With reports of the king's relationship with the actress, many wondered whether her Jewish heritage will prove an embarrassment.

King Hussein, who signed a historic peace agreement with Israel in 1994, died of cancer in 1999. His first wife, Dina, died in 1957. He later remarried three more times.