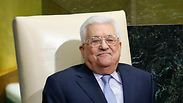 Palestinian President Abbas
Photo: Reuters
Palestinian President Mahmoud Abbas will refuse to meet US Vice President Mike Pence later this month following Washington's controversial policy shift on Jerusalem, an Abbas aide said on Saturday, as protests gripped the Palestinian territories for a third straight day.

Retaliatory Israeli air strikes on the Gaza Strip killed two Hamas militants before dawn, as unrest simmered over US President Donald Trump's controversial declaration of Jerusalem as Israel's capital.

A total of four people have now been killed and dozens wounded since Trump announced the move, which drew criticism from every other member of the UN Security Council at an emergency meeting on Friday.

"There will be no meeting with the vice president of America in Palestine," Abbas's diplomatic adviser Majdi al-Khaldi told AFP.

"The United States has crossed all the red lines with the Jerusalem decision," he added.

Foreign Minister Riyad Al-Maliki also confirmed that Abbas will not meet with Trump, added there will be no communication between US and Palestinian officials.

"We will seek a new mediator from our Arab brothers and the international community, a mediator who can help with reaching a two-state solution," Maliki told reporters in Cairo.

Egypt's Coptic Pope Tawadros II also canceled a meeting with Pence with the church saying it "declines to receive" him in protest at Trump's announcement, which failed to take into account the "feelings of millions" of Arabs.

That decision came a day after Egypt's top Muslim cleric, Ahmed al-Tayeb who heads Al-Azhar, also scrapped plans to meet the US vice president over the "unjust and unfair American decision on Jerusalem."
'Trump's decision is null and void'
In Cairo, Palestinian Foreign Minister Riyad Al-Maliki said the Palestinians "oppose the decision made by President Trump and will deal with it as if it doesn't exist. The decision is null and void diplomatically and legally, and it would not change the legal reality in which Jerusalem is part of the occupied territories."
"The United States is trying to pressure other countries to recognize Jerusalem as Israel's capital, but it has so far been unsuccessful. False reports were made about some countries considering moving their embassies from Tel Aviv to Jerusalem, but they turned out to be untrue. The international community stands with Palestine," al-Maliki added.
Al-Maliki also said the Palestinians will seek a UN Security Council resolution over Trump's decision on Jerusalem.
"When the time comes, we'll demand all countries to recognize the State of Palestine and the fact east Jerusalem is our eternal capital," he added.
He called on "all Arabs to come to Jerusalem - it will be a direct and quick response to President Trump's decision."
US isolated
Trump's decision drew lavish praise from Prime Minister Benjamin Netanyahu but has sparked a worldwide diplomatic backlash.
Five European countries on the UN Security Council insisted the new US policy was not consistent with past resolutions, including one that declares east Jerusalem to be Israeli-occupied.
The meeting was requested by eight of the 15 members of the council but was largely symbolic as no vote on a resolution was planned because the US wields veto power.
Trump said his defiant move—making good on a 2016 presidential campaign pledge—marked the start of a "new approach" to solving the Israeli-Palestinian conflict.
But many analysts question how a balanced agreement can be reached by granting such a major Israeli demand before negotiations have even started.
Israel has long claimed all of Jerusalem as its indivisible capital, while the Palestinians see the annexed eastern sector of the city as the capital of their future state.
Its status is the most sensitive issue in the decades-long conflict.
Reuters contributed to this report.