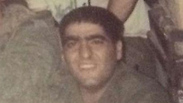 Sgt. Abraham Ajami
Photo: Barel Efraim
Last fallen soldier from Lebanon War laid to rest 31 years later
Sgt. Abraham Ajami suffered a critical head injury in 1987 while serving in an Artillery Corps battery in Lebanon. He spent the last 31 years in a vegetative state, and passed away on Tuesday; 'He never got to have a girlfriend, because he was only 19 and remained 19,' says his sister.
Sgt. Abraham Ajami, 50, who was wounded while fighting in Lebanon 31 years ago and has since been in a vegetative state, was laid to rest on Wednesday, with dozens of family, friends and former comrades-in-arms coming to pay their respects.

Ajami, who served in the Artillery Corps' Reshef Battalion, was hurt in 1987, when the IDF was in southern Lebanon to create a security buffer zone to protect Israeli communities near the border.

During a firefight in the Lebanese town of Marjayoun, a shell exploded near the back end of the cannon Ajami was operating. He suffered a critical head injury and spent the last 31 years in the hospital in a vegetative state.

Over the past two weeks, he suffered from pneumonia and his medical conditioned worsened. He passed away on Tuesday night, surrounded by family and his many friends.

Ajami received a full military funeral at the Holon Military Cemetery with family, friends, and current soldiers from the Reshef Battalion in attendance.

His sister, Metuka Aspir, said "God had decided to free" her brother from his suffering.

"He was a man loved by all—shy, introverted, and loved to help. Even a girlfriend he never got to have, because he was only 19 and remained 19," she lamented.

His brother Reuven Ajami said the family learned things it didn't know about Abraham from his friends after he was hurt. "He must have really been a special man," he said.

Ajami's commander, Dror Lipshitz, confirmed. "He was a very special man with a lot of strength, who always smiled. When I say he had a good heart, it's not a cliché, because he would always help everyone."

The commander said Ajami was a hard worker. "He wanted to hold the shells and put them into the canon. That's the hardest work there is, and he never complained or said no. As a commander, you want people like that near you," he said.

Rachel Kradi-Alush, the company secretary at Ajami's artillery battery, recounted in tears an act of chivalry. "We got on a bus from Kiryat Shmona to the outpost, and a swarm of bees came at me. Abraham took off his coat and wrapped it around me, so they won't sting me, and ran with me into the outpost," she said.

Rabbi Mordechai Cohen, who was the unit's rabbi while Ajami served in the Reshef Battalion, spoke of the soldier's family. "Your family's devotion hasn't diminished all of those years, and they always wrapped you in a lot of love throughout your difficult recovery and rehabilitation," Cohen said.

"You paid for Israel's security with your health. This is a lifelong sacrifice, because since your injury you only lived a partial life," the rabbi added.

Yigal Ben-Ari, Ajami's comrade-in-arms, spoke of "a young and strong man with a thunderous voice, who could be heard all over the battalion. Particularly kind, full of motivation, and never refused any task at the battery."

MK Michael Oren, who represented the government, also eulogized the soldier. "I can't remember another such tragic case of a soldier who falls in battle, but doesn't. Who returns home, but doesn't. Who reunites with his family, but doesn't. He remained in no man's land for over 30 years. It is too hard to bear," Oren said.