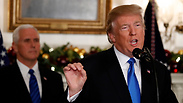 US officials: embassy move could be complete by 2019
Days after Trump rebuffs statements made by PM predicting embassy relocation to J'lem would be completed within a year, NY Times reports White House officials say administration working faster than expected on transfer; plan eyes current US consular in Arnona as new location.
WASHINGTON - Senior White House officials say that US President Donald Trump is working faster than expected to implement his electoral campaign pledge to transfer the US Embassy in Tel Aviv to Jerusalem by 2019, according to a report in the New York Times.
Following up on his promise, Trump announced in December, while simultaneously recognizing Jerusalem as Israel's capital, that he had instructed the State Department to begin laying the groundwork for the move.
According to the report, the State Department has opted to pursue the more cost-effective route by accepting a plan that will not result in the construction of a brand new building, but a conversion of the existing consular building in the Arnona neighborhood of Jerusalem.
Selecting the already existing building will also expedite the process, enabling US Ambassador to Israel David Friedman and his team to begin operating there by next year.
The report comes just days after Trump rebuffed statements on Wednesday made by Prime Minister Benjamin Netanyahu that the planned relocation of the embassy would take place within a year.
Netanyahu, according to Israeli reporters traveling with him on a trip to India, said on Wednesday: "My solid assessment is that it will go much faster than you think—within a year from now."
Asked about Netanyahu's comment, Trump said in an interview that was not the case. "By the end of the year? We're talking about different scenarios—I mean obviously that would be on a temporary basis. We're not really looking at that. That's no."
The report further highlights the friction that ensued between Secretary of State Rex Tillerson and the White House, with his previous announcement that the president's announced move would probably not be executed at least in the next two years coming into conflict with the enthusiasm for a speedy transfer advocated by Friedman and Trump's son-in-law and Middle East advisor Jared Kushner.
On Thursday, the report goes on, Mr. Tillerson urged Trump to hold fire on the rapid transfer, arguing that more time was required in order to upgrade the building's security, an argument with which Trump agreed.
"What you'll see from the secretary is that we will do this at the pace of security, not at the pace of politics," said the under secretary of state for public diplomacy and public affairs, Steven Goldstein.
Netanyahu took a step back on Thursday from his comments after they were challenged by Trump.
An official in Netanyahu's office said the prime minister recognized that construction of a new embassy will take years but believes Washington is considering "interim measures that could result in an embassy opening much faster".