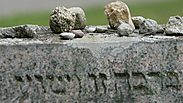 Jewish grave
Photo: Reuters
The Jewish community in London is in turmoil, following a decision by a local coroner not to approve the expeditious burial of Jews.

According to British law, the burial of every dead body is bound by a coroner's approval, which states that there is no suspicion of foul play. In areas where there is a large Jewish community, the coroner tends to give priority to the bodies of Jews, in order to allow their burial to take place as quickly as possible, according to Jewish law.

Mary Hassell, north London's new senior coroner, recently decided not to approve the prioritization of deceased Jews, meaning that their bodies may have to spend days in refrigeration.

"No death will be prioritized in any way over any other because of the religion of the deceased or family," Hassell said in a statement, suggesting that members of her staff have been "bullied or intimidated" by Jewish community representatives over the matter.

"I have received complaints in a similar vein from my other officers and from the mortuary manager … My team has the right not to be bullied or intimidated at work," she wrote.

The heads of north London's Jewish community called Saturday for Hassell's dismissal, stating that "many of her imposed rules, bureaucracy, inflexibility and unnecessary delays offend traditional and/or religious practices."

They also denied her notion that members of the Jewish community bullied her staff, but family members who lost loved ones do have to call her offices several times on an occasion in which they may have been stressed or even desperate due to her policies, which may have caused them to become frustrated.

Their call for Hassell's removal came after a meeting they had with her, which they described as "very disappointing." They claimed she showed "very little interest in the concerns of the Jewish community about the delays in burial."

The coroner refused to comment on the affair as responding to requests from the media "contradicts the legal definition of her role," Hassell's office said.