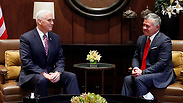 VP Mike Pence and King Abullah
Photo: Reuters
Pence says he and Jordan's Abdullah 'agreed to disagree' on Jerusalem
After US vice president meets in Amman with Jordan's king, Pence points to continuing disagreements between the two over President Trump's recognition of Jerusalem as Israel's capital; despite 'agreeing to disagree', Pence maintain's US committed to kickstarting peace process.
US Vice President Mike Pence said on Sunday at the end of talks with Jordan's King Abdullah that he had "agreed to disagree" with the monarch about Washington's recognition of Jerusalem as the capital of Israel.

Earlier the monarch had warned the visiting top US official about the consequences of President Donald Trump's move, saying it destablized the region, fuelled radicalism and could hamper efforts to reach a comprehensive settlement of the Arab-Israeli conflict.

In remarks during talks with US Pence in Amman, hours before he lands in Israel for a three-day visit, the king said the only solution to the Israeli-Palestinian conflict was a two-state one.

King Abdullah said the US move would fuel radicalism and inflame Muslim and Christian tensions.

"For us, Jerusalem is key to Muslims and Christians, as it is to Jews. It is key to peace in the region and key to enabling Muslims to effectively fight some of our root causes of radicalization," he said.

Pence, in turn, tried to reassure the monarch that the Trump administration remains committed to restarting Israeli-Palestinian peace efforts and views Jordan as a central player.

The vice president also said that "the United States of America remains committed, if the parties agree, to a two state solution." Such a caveat deviates from long-standing US support for a two-state solution as the only possible outcome of any peace deal.