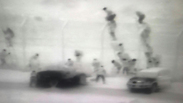 Smuggling attempt
Photo: Israel Police
A 25-year-old Israeli man, who was allegedly involved in an attempt to smuggle drugs across the Israel-Egypt border, was killed late Sunday night during a Border Police operation to thwart the smuggling.

Undercover Border Police forces identified some 30 Egyptian smugglers who arrived at the border fence near the community of Nitzanei Sinai, climbed the fence using ladders and started throwing bags, allegedly filled with drugs, to the Israeli side.




They were then joined by four vehicles on the Israeli side of the border, and several suspects began loading the bags onto the vehicles.

The undercover Border Police force then went into action to arrest the smugglers and came under fire from several spots on the Egyptian side.

The Border Police force started returning fire, and a firefight ensued, with Egyptian Police also firing at the smugglers.

After the smugglers on both sides of the border escaped, the Border Police force located an off-road vehicle where they found the drugs.

The Israeli man, who was apparently hit by fire from the Egyptian side of the border, was found only an hour later near the Tze'elim IDF base.

Paramedics who arrived at the scene evacuated him to the hospital, and he later succumbed to his injuries.