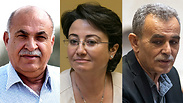 Azbarga, Zoabi and Zahalka
Photos: Yoav Dudkevitch, Zohar Shahar, Haim Horenstein
Police submitted on Tuesday its recommendation to indict three Balad MKs—Hanin Zoabi, Jamal Zahalka and Juma Azbarga—for a series of ethical criminal offenses.
The police have completed their investigation into the three parliamentarians, saying sufficient evidence has been collected to charge Zoabi, Zahalka and Azbarga with fraudulently obtaining benefits, falsification, money laundering, fraud and breach of trust, among others offenses.
The case will now be brought to the State Attorney's Office for a decision on whether to indict the three.
The Israel Police's Lahav 433 anti-fraud unit, in conjunction with the Economic Department in the State Attorney's Office, investigated campaign donation reports from 2013 and 2015 submitted by Balad to the State Comptroller's Office.
The three MKs are suspected of falsifying documents on a regular basis to hide from the State Comptroller the fact they were receiving millions of shekels in illegal donations.
Police seized falsified receipts and documents listing exaggerated party expenses to cover up the illicit donations, and dozens of officials in the party were questioned, including political activists and managers of local party offices from across the country.
The investigation was launched in the wake of a state comptroller report, which raised the suspicion millions of shekels allegedly donated to the party from different elements in Israel and abroad were allegedly fraudulently reported as coming from hundreds of donors in Israel.
Police searched suspects' homes and offices, including different offices belonging to the party, seizing documents, assets and bank accounts.
A month after the investigation was made public, protesters demonstrated outside the Lahav 433 offices, claiming the investigation amounted to "political persecution meant to humiliate the party."
MK Zoabi said at the time that, "We are certain this is political persecution with no justification. Instead of the police employing officers to eradicate the violence and crime that endanger our lives, they are sending 3,000 police officers to us for political persecution, while only 30 officers are sent to a murder scene."
She went on to say that, "police claim we're subsidizing national activity—I don't think there is any crime in that, and we will continue supporting this. If there's anyone who needs to be investigated, it's the prime minister. I'm sure if this had happened to Jewish (political) activists, there would be no arrest warrants issued, but when it comes to Balad, the treatment is completely different."