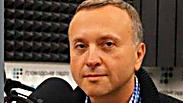 Eduard Dolinsky, executive director of Ukrainian Jewish Committee
Ukraine's new heroes: Anti-Semites and murderers of Jews
Stepan Bandera collaborated with the Nazis, Symon Petliura is linked to the massacre of as many as 100,000 Jews, and Ivan Rohach was the editor of an anti-Semitic newspaper—yet the three of them are commemorated in Ukraine's city squares and streets; 'this is morally unacceptable,' a local Jewish leader says, accusing the government of rewriting history and denying the Holocaust.
KIEV—A statue in memory of Symon Petliura was unveiled several months ago in the Jewish neighborhood of Vinnitsa. The monument was initiated and erected by the Ukraine authorities. Petliura, by the way, is linked to the massacre of as many as 100,000 innocent Jews during the 1918-1920 civil war.

And he's not alone. Meet Ukraine's new heroes: Anti-Semitic murderers who massacred Jews and are being commemorated as part of a "decommunization" (a process of dismantling the legacies of communism) in the streets and city squares.

Avenues and streets have been named after Stepan Bandera and his partners, who collaborated with the Nazis and massacred Jews during the Holocaust. Ironically, the avenue leading to Moscow and to Babi Yar (the site of massacres carried out by German forces and local Ukrainian collaborators) is named after Bandera.

It's no wonder Ukraine's Jews are angry and troubled, living in a country where anti-Semitic murderers are backed by the authorities and spraying hate graffiti is routine. During Catholic Christmas, for example, hate graffiti were sprayed in three Jewish sites—the gates of the Holocaust museum in Odessa, a Jewish cultural center and an inactive synagogue in the city.

So security around Jewish institutions is being boosted, but at the same time—according to Jewish sources in the country—the authorities are encouraging a glorification of anti-Semites.

Ukrainian nationalists chant 'Jews out' on New Year's Eve 2017

"My call on the president and prime minister of Ukraine to condemn the acts has yet to be answered," the chief rabbi of Odessa and South Ukraine, Avraham Wolff, said in response to the graffiti. He expressed his confidence, however, that the condemnation would eventually arrive. "It's very important to prevent it to begin with, because unfortunately everyone knows where it begins and where it ends."

The acts were strongly condemned by the European Parliament, which rushed to send Rabi Wolff a letter calling on President Petro Poroshenko and Prime Minister Volodymyr Groysman to denounce the acts and monitor the investigation.
When the government owes nationalists
Eduard Dolinsky, executive director of Ukrainian Jewish Committee, is waging an all-out war on this alarming trend. He is often forced to confront a long list of angry nationalists on the country's most popular current affairs program, but his performances have turned him into a popular blogger and a leader in the Jewish community.

If you're wondering how all this is happening in a country led by a man called Groysman, Dolinsky explains that "the prime minister wasn't elected as a Jew and he is doing his non-Jewish job, so his Jewishness has no influence whatsoever on the agenda."

As for the anti-Semites' successful integration into Ukraine's legitimate mainstream, Dolinsky explains that the nationalists have a lot of influence. "They helped senior officials rise to power, and they owe them quite a bit. The second reason is the impact of the conflict with Russia. Glorifying the anti-Semites is an ideological and practical way of recruiting the population. In other words, in a bid to enlist the public against the aggressor, they have to create an agenda of 'heroes' who fought for our country with weapons in their hands. This is also happening under the nationalists' influence."

Dolinsky says Ukraine is basically shooting itself in the foot with its policy of glorifying anti-Semite criminals. "It has already led to a serious conflict with Poland, which has barred some of the government workers involved in this policy from entering the country, and they are also working to prevent it from joining the European Union. In other words, these issues are already serving as an obstacle for Ukraine's integration in Europe."
A monument for an anti-Semite at Babi Yar
Earlier this month, on Stepan Bandera's birthday, the anti-Semites held a torch parade just like they did last year, when they chanted, 'Jews Out."

Dolinsky accuses his country of denying the Holocaust and warns that "a conflict with Israel, Germany and the United States is inevitable.

"These countries are keeping silent for now, because of the conflict with Russia, but they'll never accept a glorification of the Nazis' collaborators.

"The Ukrainian government," he says, "participates in memorial events, like the one marking 75 years since the Babi Yar massacre, but at the same time it places signs in Babi Yar in memory of the Ukrainian nationalists who helped target the Jews, whether ideologically or practically.

"There is a sign there, for example, for Ivan Rohach, the editor-in-chief of aa newspaper which called for the murder of Jews at around the same time of the Babi Yar massacre, but you won't read anything about that on the memorial plaque. Both the murderers and their victims are commemorated at Babi Yar, in one place. This is morally unacceptable. It's a case of abusing the memory of the annihilated Jews, rewriting history and denying the Holocaust."

Dolinsky mentions other incidents, like the erection of a Petliura statue at the center of the Jewish neighborhood of Vinnitsa. "They are trying to impose one ideology on the Ukrainian public. This group, which is organized around the Institute of National Remembrance, the nationalist and anti-Semitic parties like Svoboda, and others, is creating activities that infiltrate the government bodies and the public.

"For example, on the occasion of the 50th anniversary of the UPA (the Ukrainian Insurgent Army), the Ukrainian president's office issued a special document to local authorities on how to mark the event, including instructions on 'how to respond' to claims of anti-Semitism in the organization and its denial. They presented a series of

examples of Jews' participation in the organization, but all their examples were in fact false. Some were of Jewish doctors who were forcefully held by the UPA, and some were of people who never even existed. These examples were aimed at whitewashing the criminals who played a part in the Holocaust."
Brainwashing the youth
Dolinsky clarifies that "the Jewish community has a unified stance on this issue against the glorification of murderers and collaborators of the Nazis who took part in the Holocaust. I'm talking about the entire Jewish community and the Jewish organizations.

"Having said that, there are few Jewish activists who have an opposite opinion, but they only represent themselves."

What are the chances of winning this battle against the falsification of history?

"I think the pressure on Ukraine will increase both internationally and internally. The thing is that most of the country's residents are related to millions of Ukrainians who fought against the Nazis in the Soviet army. These people are very unhappy with policy of glorifying that small group of the OUN-UPA, which was mainly active in western Ukraine and is now becoming the main historical agenda. There is a concern, however, that the damage has already been done and that the youth has been successfully brainwashed."

Dolinsky pins his hopes on the international pressure. "We can't announce that we accept the European values, and at the same time declare people who collaborated with the Nazis as heroes, while completely denying those exact same values. Ukraine will have to make a choice: Either to become an enlightened European state or to sink into the mud of historical contradictions and nationalism."