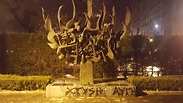 Neo-Nazis vandalize Holocaust monument in Greece
Activists belonging to the Golden Dawn neo-Nazi party deface Thessaloniki Holocaust monument by spraying party's name on it; days later, activists handed out anti-Semitic flyers in local landmark; other parties sprayed 'Free Palestine' on the memorial; 'Greek still most anti-Semitic country in non-Muslim world,' says Greek Jewish activist.
A Holocaust memorial was found vandalized in Thessaloniki, Greece this week, just days ahead of International Holocaust Remembrance Day, marked worldwide on January 27. The memorial was apparently vandalized by local neo-Nazis, who sprayed it with the words "Golden Dawn," the name of the country's far-right party.

The monument, erected to commemorate the memory of the city's Jews who were sent to concentration camps during the Holocaust.

The incident took place during the extremist party's demonstration against a compromise between Greece and Macedonia over the latter country's name—which is identical to a geographical region in Greece—in which tens of thousands of people participated.

Golden Dawn activists sprayed their party's name on the memorial during the protest. Days later, unknown parties sprayed "Free Palestine" on the memorial.

To add insult to injury, neo-Nazi activists handed out anti-Semitic flyers to passersby Wednesday near the White Tower, one of the city's most recognizable symbols, aimed against Thessaloniki Mayor Yiannis Boutaris, who was dubbed "a slave to Jews."

Sabby Mionis, a Greek Jew who made Aliyah to Israel 12 years ago and serves as the joint chairman of the Jewish Agency's taskforce for combating anti-Semitism, said, "Despite this government and Prime Minister (Alexis) Tsipras's staunch stance against anti-Semitism, racist activists still pollute many Greek institutions.

"Everyone knows Golden Dawn is a neo-Nazi party, but what's even more dangerous is anti-Semites who—motivated by their hatred of Jews—work behind the scenes to sabotage the two countries' relationship. According to a study by the Anti-Defamation League, Greek is still the most anti-Semitic (country) in the non-Muslim world."