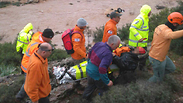 Rescuers in Chilazon Stream
Photo: Police Spokesmanship Unit
14 people rescued from northern stream due to downpour, 6 from Jordan River
At least 30 people overall had to be rescued by emergency services after they found themselves marooned in rapidly rising streams; 14 people were rescued from Chilazon Stream, where jeeps were submerged and people stuck on islands in the stream; a concrete wall collapsed in Tamra, damaging vehicles but harming no one.
Heavy rainfall hit Israel from north to south Friday, flooding streams—and catching both drivers and hikers unawares. 14 people were rescued Friday night from the lower Galilee's Chilazon Stream, including several people rescued from jeeps marooned mid-stream and eight others stuck on an island in the middle of the brook.

Magen David Adom said three of those rescued from the stream required medical attention due to mild hypothermia, two of which were airlifted by military helicopter to Rambam Hospital in Haifa and another by ambulance to the Galilee Medical Center in Nahariya.




A statement by the police said a team from the Western Galilee-Carmel rescue unit assisted in extracting at least 20 people in distress after their vehicles were carried away by streams, while also assisting in extricating seven vehicles.

Israel Air Force helicopters were also roused to assist in the Chilazon River rescue operations.

Jeeps submerged in Chilazon Stream (צילום: עדי סגל)

Three additional people marooned on the Jordan River, just north of Arik Bridge, also needed rescuing. A short while later another vehicles, containing three men in their forties, was reported stuck in the river after attempting to cross it. All six were successfully rescued by emergency services.

Earlier Friday, a father and his son were rescued from their car in the Kziv Stream, after it was swept away by the rapids. The father said he always went on trips in the region and usually crossed the stream without issues.

Dozens of firefighters took part in Friday's rescue operations. Fireman Officer Shachar Tzairi, commander of the Central Galilee Fire Station, sought to remind the public that it was "strictly prohibited to cross streams and bodies of water on foot or aboard vehicles in unauthorized places, especially on days of heavy rainfall and rapidly rising water levels."

Not only the wide outdoors were affected by inclement weather, however, as cities were also hard hit by massive amounts of precipitation.

In the northern city of Tamra, for instance, a concrete wall collapsed on top of three vehicles, but miraculously no one was harmed. In Tel Aviv, meanwhile, a tree fell over on two vehicles, also damaging an electric pole.

In Hadera, a street was flooded and residences lost power due to short circuits on the electrical grid.

Heavy flooding in Hadera (צילום: דוברות עיריית חדרה)

In the afternoon and early evening, snowfall continued in the northern Golan Heights and Safed, where internal roads were blocked for a short while. Crews from the municipality and the IDF opened the routes for traffic and said they will continue doing so until the snow stopped.

In the northern Golan Heights snow reached 10cm by the afternoon, whereas in Safed 5cm of snow were measured in the city's more elevated neighborhoods. On Mount Hermon, 48cm of snow were measured on the lower part of the site.

The Israel Water Authority said that due to increased flow in the country's streams, the Kinneret's level rose two more centerimeters since Friday morning, and five and a half centirmeters total since rains started.

The level was measured at -214.10 below sea level—which is still 1.1 meters below the red line.