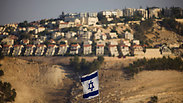 A new Likud bill proposal seeks to apply Israeli law to Jewish settlements in the West Bank, effectively annexing them.

The annexation bill, sponsored by Likud MK Yoav Kisch, is identical to a resolution unanimously adopted by the Likud Central Committee a month ago.

"It's time to put the Likud Central Committee's resolution into practice and begin applying sovereignty over the settlement areas in Judea and Samaria," Kisch said. "There will be no better historic opportunity to do this."

In the coming days, Unifying Behind Sovereignty, a forum made up of hundreds of Likud Central Committee members, will launch an online campaign titled "Making History" to put pressure on lawmakers to promote Kisch's proposal.

Ariel Morelli, a member of the Unifying Behind Sovereignty forum, hailed Kisch's bill. "In 2018, the Likud is making history just like the history David Ben-Gurion made in 1948, Moshe Dayan and (Yitzhak) Rabin in 1967 and Menachem Begin in 1977," he said.

Members of the coalition have proposed quite a few annexation bills during the 20th Knesset's term: Kisch and Bayit Yehudi MK Bezalel Smotrich submitted a proposal to annex the settlement of Ma'ale Adumim; MK Moti Yogev (Bayit Yehudi) and MK Miki Zohar (Likud) sought to annex Gush Etzion, the city of Ariel and the Jordan Valley; Minister Yisrael Katz (Likud) tried to promote a bill proposal to annex Givat Ze'ev; MK Shuli Mualem-Rafaeli (Bayut Yehudi) proposed to repeal the Disengagement Law in the northern Samaria region.

All of these proposals were sidelined by the coalition, mostly to avoid censure from the international community.