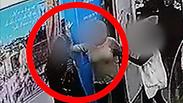 Jerusalem schools to stage limited strike after mother assaults teacher
Elementary and junior high schools to begin classes at 10am on orders of the Israel Teachers' Union following Friday incident in which angry mother stormed into a class and slapped, kicked a teacher, pulled wig off her head; Federation chairwoman: 'This is only a drop in the ocean compared to the serious things that happened there.'
All kindergartens, elementary schools and junior high schools in Jerusalem will go on strike for two hours Monday morning following a violent incident that took place last week in which a mother burst into a classroom and assaulted a teacher.

Chairwoman of the Israel Teachers' Union (ITU) Yaffa Ben David announced the planned strike on Sunday afternoon, which will see the schools on strike only begin classes at 10am.

The incident occurred on last Friday when during studies, a mother burst into a classroom where her son was studying and slapped the English teacher across the face, kicked her and pulled her wig (often worn by some Orthodox women) off her head.

CCTV footage of violent incident

On footage captured by CCTV cameras, the mother is seen circling outside one of the classrooms in the school, seemingly trying to identify the teacher.

A few seconds later, the teacher appears and after what appears to be a short argument, during which another female teacher intervenes in order to restrain the mother, she is seen slapping the shocked teacher.

Following the assault, classes were canceled in protest on Sunday for two hours and are set to be repeated on a wider scale in other schools across the capital, bar high schools.

"After I heard the difficult testimony from the teaching staff who were in the school and predicted the difficult scene, I can say honestly that what has been seen in the media is only a drop in the ocean compared to the serious things that happened there and we cannot, therefore, fail to respond," Ben David said.

"The State of Israel is abandoning educational staff. From now on, in every violent incident toward educational staff, we will put all schools in the city on strike," she warned.

"It cannot be that educational staff become punching bags for parents. I call on the Israel Police to hasten the investigation and hold the mother to account."

Traumatized by the incident, the teacher who was struck has still not returned to her staff duties and has been given sick days as she undergoes medical checks.