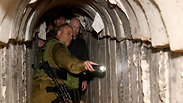 Jason Greenblatt in Hamas tunnel
Photo: COGAT
Trump's Mideast envoy slams Hamas for 'wasting resources' on terror
Following an IDF security briefing during a tour of the Gaza border region, Trump special envoy Jason Greenblatt blames terror organization for investing resources in tunnels and rockets to attack Israel, 'instead of helping the people of Gaza by getting the lights on, the water flowing & the economy growing.'
US President Donald Trump's special Middle East envoy Jason Greenblatt slammed the Gaza-ruling terror organization Hamas Sunday for "wasting resources" to attack Israel instead of allocating them toward improving the lives of the strip's citizens.

"Hamas wastes resources on tunnels & rockets to attack Israel, instead of helping the people of Gaza by getting the lights on, the water flowing & the economy growing," Greenblatt wrote in a tweet after taking a tour of the Gaza region in Israel.

Jason Greenblatt tours Gaza border region (צילום: מתפ"ש)

"Hamas spews hateful rhetoric & foments a vicious cycle of violence. Gaza deserves better!" Greenblatt added.

During his tour, during which he was escorted by senior IDF officials, Greenblatt entered an attack tunnel dug by Hamas that was recently exposed by the military and received a security briefing from Brig. Gen. Yehuda Fox.

Greenblatt's visit to the region was an initiative by Coordinator of Government Activities in the Territories to replace Maj.-Gen. Yoav (Poli) Mordechai.

During the tour, the two discussed the tunnels that had penetrated into Israeli territory and the humanitarian crisis that is worsening in the coastal enclave.

"The difficult situation in the Gaza Strip is the result of policies being led by the terror organization, Hamas, which instead of investing in the population, in investing in death tunnels and in the production of weapons," Mordechai told Greenblatt.

"Moreover, this is the result of the policies by the Palestinian Authority which does not invest enough in the strip and imposes sanctions on its residents," he continued. "I hope the international community and the Palestinians understand this."

Earlier in January, the IDF completed its destruction of a Hamas terror tunnel that was attacked by Israeli jets the night earlier underneath the Kerem Shalom border crossing.

The tunnel reached all the way to the Egyptian side of the border and was dug from Rafah at a length of approximately 1.5 kilometers.