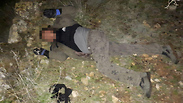 A Palestinian wearing khaki-colored clothes resembling IDF uniform was caught and arrested by IDF forces Sunday evening after trying to break into the settlement of Itamar in the West Bank.
The suspect that was caught was apprehended in the hills separating Beit Furik and Itamar.
After the arrest, IDF soldiers launched a manhunt for another suspect who managed to flee the scene.
IDF begins search for second suspect (צילום: הלל מאיר / TPS)
The soldiers conducted searches in nearby villages in an attempt to locate the second suspect or learn of his whereabouts.
IDF spots the two suspects (צילום: דובר צה"ל)
During their entry into the village of Furik, riots broke out in three different locations, with the participation of dozens of Palestinians who threw stones at them.
The forces responded by means of riot control.


The IDF emphasized that at no point did the two succeeded in infiltrating the settlement.


After a preliminary investigation, the IDF found that the suspect they apprehended has already been previously arrested for terror-related activities.
The possibility that the two suspects came to carry out an attack is being examined.
Samaria Regional Council head Yossi Dagan said in a comment on the incident that the people "in Itamar and in all of Samaria are strong, we do not concede, we will not break down and we will not buckle" under these threats on their security, adding they fully "trust the IDF and the defense establishment" with their safety.