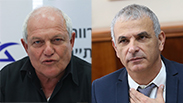 Welfare Minister Katz (L) and Finance Minister Kahlon
Photo: Alex Kolomoisky, Ohad Zwigenberg
Coalition pushes for speedy passage of disability benefits bill
Pending approval by the Ministerial Committee for Legislation, the House Committee and Finance Committee, the NIS 4.2 billion agreement to raise disability benefits may pass as early as Tuesday; if passed, half of the sum allocated in the agreement will be used to raise benefits this year.
The Ministerial Committee for Legislation is expected to approve a long-delayed bill Monday based on an agreement between Finance Minister Moshe Kahlon and Welfare Minister Haim Katz to allocate NIS 4.2 billion over four years to raise disability benefits.

The Knesset's House Committee will then convene to authorize an accelerated legislative process that may lead to the bill being approved in a third reading as early as Tuesday.

After long weeks of holding demonstrations and blocking roads nationwide on the one hand, and a myriad of promises by public officials to find solutions to the disabled people's financial woes on the other, the coalition worked all of Sunday to create terms favorable to enacting the government's agreement with the disabled into law Tuesday.

In order to bring the bill to a plenum vote, however, the Ministerial Committee for Legislation has to approve the draft bill. Since the committee will convene regardless to hold ongoing negotiations on the 2019 budget, the attending ministers may approve the bill and send it to its first reading preparations Monday.

The coalition's administration informed new House Committee Chairman MK Miki Zohar (Likud) that it wanted his committee to approve a speedy approval process so the bill will not have to remain on the Knesset's agenda for the customary 45-day period.

If the two aforementioned hurdles are indeed cleared Monday, Chairman of the Finance Committee MK Moshe Gafni (United Torah Judaism) will call his own committee into session and approve the requisite transfer of funds, after which—shortly before the plenum's session opens—the item will be put on its docket.

The draft bill is based on an accord reached Sunday between Kahlon and Katz and includes raising disability benefits by NIS 4.2 billion spread over four years. Half of the sum, NIS 2.1 billion, will be allocated to raising benefits during the current year, with the precise manner in which the money will be divvied remaining up to the finance and welfare ministers.

In addition, the draft excepted to be approved by the House Committee will also include linking benefits to the average wage.