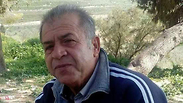 Palestinian dies after transfer to Nablus hospital, family sues Israel
Moein Haja was injured in a workplace accident in Israel and then hospitalized in Beilinson Hospital; his employer would not confirm he was employed in Israel, so he was transferred to a dilapidated hospital in Nablus, where he passed away; 'Was it not clear transferring him will lead to his death?' Son demands; Beilinson claims authorization for transfer was received.
A Palestinian family is suing Israel for damages over alleged negligence that led to the death of the family's father, who was employed in construction in Israel and was injured in a workplace accident.

The man, Moein Haja, 56, from the village of Burqa near Ramallah, was fatally injured during his job as a construction work in Tayibe, an Arab city in central Israel, and was hospitalized in the Beilinson Hospital at the Rabin Medical Center in Petah Tikva.

Despite his condition, Haja was transferred eight days later to the Rafidia Hospital in Nablus, where he passed away two days later, with the family claiming it was because of the hospital's deplorable conditions. His swift transfer out of Beilinson, his family maintains, was a cost-saving measure.

Attorney Pesach Stamler, who represents the family, told Ynet, "It's unclear how Beilinson dared to cast off someone who was on a respirator and under general anesthesia. Was it not clear halting treatment to transfer him to the territories will lead to his death?"

Replying to the Haja family's claims, Beilinson Hospital said authorization to transfer the patient was received from "other authorities."

The family further added that hospitals in the Palestinian Authority were not equipped to provide the requisite care to people in Moein's condition. One of his sons said, "This is negligence of the highest order. Instead of treating him, they threw him away to die. We have to find out who decided to transfer him to a hospital that couldn't save his life. It's utter disrespect towards human life."

Another son, Salim Haja, said, "We're in shock. This is a nightmare. Dad went to work, and then we got a call saying he was hurt and taken to Beilinson Hospital. We arranged for my brother and mother to be issued three-day entry permits into Israel. They used them for two days and then the hospital wouldn't sign off on our dad being hospitalized there.

"Several days later, people from the Rafidia Hospital in Nablus called us. They said dad was in intensive care there. Two days later doctors pronounced him dead. We didn't sign any transfer form and were not told of an official intention to transfer him. They did it without our knowledge. How do you move someone so grievously wounded from place to place? I can't explain it. Dad had rights, and we want answers."

A visit to the Nablus hospital where Moein Haja who hospitalized, which was captured on a hidden camera, showed the premises suffer from severe neglect. The bathrooms, counter and refrigerator in the emergency room were completely rusted, while malodorous aroma permeated the halls.

The floor was strewn with papers, food waste and medical equipment. In the waiting room and near the entrance to other departments, visitors smoked and threw cigarette butts in the halls without sparing a thought to patients.

Near the pediatrics ward, there was a dirty stairwell, broken chairs, walls with water damage and a dirty water cooler.

One of the patients hospitalized there told Ynet, "We only come here because we have no choice. Instead of receiving treatment, I may get an infection. This is the situation of many other West Bank hospitals unfortunately. Only government officials receive the best care here."

Attorney Stamler added, "It's also unclear why Moein Haja's employer refused to sign forms confirming he was under his employ, which would allow him to continue to receive care in Israel. The employer's signature would have also allowed the deceased to be recognized as someone who suffered a workplace injury for the National Insurance Institute's purposes, going towards paying medical expenses."

"A person who was employed in Israel for years was cast away to die because there was no way of forcing his employer to confirm the injury by filling out a form, and no way to instruct the police to force him to do so despite the fact he admitted (to employing Haja)," Stamler continued.

"It's unclear why there's no way of instructing the hospital to continue treating a patent at least until a preliminary inquiry into the circumstances of his injury is undertaken. Everything is done out of financial considerations."

Providing its own version of events, Beilinson Hospital said, "A fatally wounded patient arrived to the hospital with multisystemic injuries. He was treated by the trauma staff and later hospitalized in the intensive care ward. He received all medical treatment in accordance with his condition.

"After exhausting all treatment options, he was transferred to the hospital nearest to his residence in coordination with the appropriate authorities in Israel. Transferring patients from the territories does not require their families' signatures and is carried out in coordination with other authorities."