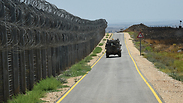 The border fence separating Israel from Syria
Photo: Avihu Shapira
Cost of border fences, underground barrier, reaches NIS 6bn
Over the past 17 years, Israel has spent NIS 6 billion on building and improving border fences along the Jordanian, Egyptian, Syrian, Lebanese and Gazan borders, as well as on the first-of-its-kind underground barrier project—which cost nearly half the sum itself.
The cost of erecting fences around Israel's borders over the past seven years stands at NIS 6 billion, a Yedioth Ahronoth examination corroborated by government officials has turned up.

The aforementioned sum is not included in the NIS 4 billion expenditure over the past 17 years—most of which was not expended over the past seven years—on creating the separation barrier separating Israel and its settlements from the West Bank.

The government has made multiple decisions since 2010 regarding constructing border fences around the country while massively refurbishing and upgrading existing fences. The lion's share of the budgets allocated for task was specially drawn from the state's overall budget, rather than the defense budget.




On Israel's border with the Gaza Strip, both a high-tech fence and an innovative underground barrier are currently being built along the 59 kilometers of frontier Israel shares with the strip.

The government has allocated NIS 3.3 billion thus far to erect the barrier, which is the first of its kind in the world. Works, which began in 2016, are expected to conclude in 2019.

On the Egyptian border, the Israeli government undertook a project in March 2010 to create a fence all along the border with its neighbor to the south to stem the unmitigated flow of migrants and refugees from the Sinai Peninsula into Israel.

The fence was completed in December 2013, with some additional work performed in early 2014 around Eilat.

The cost of the 230km fence came to NIS 1.63 billion, with the Defense Ministry footing 50 percent of the bill and the Treasury the remaining half from the state budget.

Along the Syrian border, which stretches 92km, and the 79km Lebanese border, the existing fence was renovated and upgraded, following the outbreak of the Syrian civil war more than six years ago.

Works on both fronts are ongoing, and accrued costs have thus far reached NIS 1.1 billion, not including expenses for border safety measures that cannot be divulged.

Fearing that migrants will make their way from Sinai, through which access to Israel has now been blocked to them, to southern Jordan and enter the country through there, a project began in 2015 to build a fence across 34km of the Israeli-Jordanian border, with the overall length of the border stretching 309km.

The border fence is also intended to protect Eilat and its new airport, set to be inaugurated in several months. The cost of the fence on the Jordanian frontier is NIS 300 million.