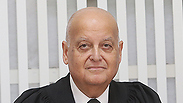 Retired Supreme Court Justice Salim Joubran
Photo: Alex Kolomoisky
Retired Supreme Court Justice Joubran: I can't sing Israel's anthem
Salim Joubran, the first Arab Israeli to sit on the High Court bench, says the lyrics of Hatikvah, 'Beats true a Jewish heart,' are not appropriate for Israel's Arab citizens: 'If the state expects all of its citizens to respect its national anthem, it needs to respect them and their rights.'
Retired Supreme Court Justice Salim Joubran, the first Arab Israeli judge in the High Court, said he cannot sing the Israeli national anthem "Hatikvah."

"Right now, I cannot sing an anthem that includes the words 'Beats true a Jewish heart,'" Joubran told the Israel Bar Association's journal in a retirement interview. "If the state expects all of its citizens, including the Arab ones, to respect its national anthem, it needs to respect them and their rights."

Joubran said that in official events, he stands up when the national anthem is played, but he does not sing along.

"No one has ever made an issue of it," he said. "If one day the words of the national anthem are changed, I think I won't have any problem singing it. I definitely think words should be added to be approrpriate for the Arab citizen in Israel as well."

Joubran said he was happy his appointment opened the door to other Arab judges to sit on the bench of the Supreme Court. He was followed by George Karra, a Christian Arab.

"I hope that soon we will be told of the appointment of the honorable judge Khaled Kabub to the Supreme Court," Joubran said. "If there would indeed be two Arab judges serving in the Supreme Court, it would bring a lot of respect to the State of Israel, and it will also increase the Arab population's trust in the justice system in Israel."

He expressed concern of politicians' attacks against the Supreme Court, saying, "It's not healthy, it must stop. The Supreme Court is not the enemy of the people. It's important to understand that hurting the Supreme Court is hurting democracy, and hurting democracy means hurting disadvantaged populations."

He also criticized a legislation proposal that seeks to bypass the Supreme Court's authority. "I think there needs to be a majority of 80 MKs (to re-legislate laws struck down by the court), and not merely 61. Such a minuscule majority hurts the democratic foundations of the State of Israel," Joubran asserted.