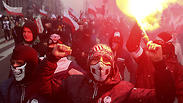 Far-right nationalists in Poland
Photo: AP
A Warsaw governor has taken steps to prevent a planned far-right protest outside the Israeli Embassy by banning traffic in the area, citing security concerns.

Right-wing groups have called the protest for late Wednesday amid a spat between Poland and Israel over pending Polish legislation that would outlaw blaming Poland for Holocaust crimes committed by Nazi Germany.

Israel has vehemently protested the law saying its unclear wording would stifle historic research and truth.

Warsaw regional governor Zdzislaw Sipera said Wednesday that for security reasons he is banning traffic around the embassy until February 5, except for residents and city services, to prevent protesters from gathering.

He said the embassy has expressed security concerns ahead of the protest.