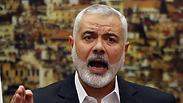 Hamas leader Haniyeh
Photo: Reuters
US diplomat: blacklisting Hamas head intended to prevent the next war
US Ambassador-at-Large and Coordinator for Counterterrorism explains his country's decision to put the head Hamas on its terror blacklist, how it relates to its struggle against Iran and its backing of terrorism, and why it could prevent wars from erupting in the Middle East.
The US' decision to put the head of the Hamas terrorist organization Ismail Haniyeh on its terror blacklist is an essential step towards "drying up" Hamas' recourses, US Ambassador-at-Large and Coordinator for Counterterrorism Nathan Sales explained in an interview with Ynet on Thursday.

The blacklisting, announced on Wednesday, targeted Haniyeh alongside Harakat al-Sabireen—a small Gazan terror group that splintered away from the Islamic Jihad and, like Hamas, is backed by Iran—and two other terror groups active in Egypt: Liwa al-Thawra and HASM.

"As a result of these designations, these individuals and groups will be frozen out of the international financial system, their assets will be frozen," Sales noted.

"In addition, it is a crime under US law for people to engage in transactions with these designated terrorists, and finally, these individuals will not be permitted to enter the United States."

Nathan Sales in an interview with Ynet news anchor Attila Somfalvi (צילום: עמית הובר)

Iran, publically being Hamas' biggest financial supporter, will thusly be declared in violation of US law. Sales noted this was in no way unintentional.

"The United States is under no illusions about Iran's malign intentions in the region, nor are we under any illusions about its ability to project its power and to shed blood around the world," he stated, adding Iran' actions and ambitions of regional hegemony can, and must, be thwarted.

"Iran can be stopped. Iran is not invincible," he said, explaining that Iran is actually "vulnerable … because it has chosen to use an illegitimate tool, like terrorism, to spread blood and disorder around the world," clearly leaving their fingerprints, such as with their support of the dictatorship of Bashar al-Assad in Syria and the Houthi insurgency in the war in Yemen.

Actions such as these forced the US to "push back against Iran to counter its malign influence in the region," he says, which left the Islamic Republic in a precarious position.

Sales then emphasized the importance of restricting "the ability of terrorist organizations to raise money (and) to inspire new recruits" by noting its ability to prevent war and further de-escalation of the Middle East's security status, as it discourages those same organizations from lending their arms in regional conflicts due to poor financial situations.

"We want to stop war from happening by degrading terrorist organizations and preventing them from accumulating the weapons, manpower and confidence that they would need to launch a new war," he concluded.

Explaining their sanctions against the Hamas leader, the US State Department noted during their announcement on the matter that "Ismail Haniyeh is the leader and President of the Political Bureau of Hamas, which was designated in 1997 as a Foreign Terrorist Organization."

Responding to the decision, Hamas said it was "a failed attempt to pressure the resistance. This decision will not deter us from continuing the resistance option to expel the occupation."

Attila Somfalvi and Alexandra Lukash contributed to the writing of this article.