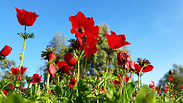 The rocket fire from Gaza and an IAF retaliation strike did not deter the thousands of visitors who came Saturday morning to the 13th annual "Red South" Festival taking place all through the month of February in honor of the blooming of the bright red Anemone flowers.

Families were delighted at the large array of activities for children and they shrugged off the rocket threat from Gaza saying they would definitely come again. They expressed confidence that the IDF would keep everybody safe.

Shokeda Forest, the "Marketito" crafts fair, Be'eri Nature Reserve and the Dutch Market at Sde Tzvi and Kokhav Michael were some of the most popular attractions of the festival.

The unseasonably spring weather attracted an especially large number of visitors this weekend.





The north of the country as well saw large amounts of visitors to nature reserves and other local attractions. Police said that unusually heavy traffic was experienced only in the Mt Hermon area.

By 10:00 the site management was forced to ask travelers to stay away due to the large crowds visiting the snow covered mountain.

Police closed off the ascending road to private vehicles and only allowed busses to pass. Some 17,000 people visited the site over the weekend, among them 2,000 skiers.

To the delight of many and in spite of the moderate winter, ski conditions on the mountain are still in effect; although a snow maker was made available for patches that are beginning to melt.

The Hula Valley also received a large amount of visitors who enjoyed the view of a snow crested Hermon in the distance, together with the lake; and thousands of Crane birds as well.

Overall, some 100,000 revelers visited National Parks and Nature Reserves over the weekend. The Banias Reserve, Caesarea, Yarkon National Park, Ashkelon Archeological Site and Masada were some of the most popular destinations.

The parking facilities at the Tel Aviv Port were completely filled to capacity and visitors were requested to find parking in nearby lots.

The dry weather is expected to continue throughout the week as a warm, dry front moves in from the Sahara Desert. Current temperatures are 7-8 degrees above average.