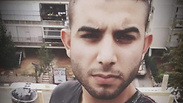 Mother of terrorist in Ariel attack urges son to turn himself in
Abed al-Karim Adel Assi, who murdered Rabbi Itamar Ben-Gal, was abandoned by his parents and went from one youth shelter to another, leaving one shelter after staff barred him from going to visit his father in Nablus out of concern he would be exploited by radical elements; 'Unfortunately we were not able to help Abed,' says Shanti House coordinator.
The mother of Abed al-Karim Adel Assi, the terrorist who murdered Rabbi Itamar Ben-Gal on Monday in a stabbing attack, condemned her son's actions on Tuesday and urged him to turn himself in.

"My son has no right to hurt anyone," said the mother, a Haifa resident in her 40s. "I condemn what he did, and I call on him to turn himself in, because what he did will not help anyone. On the contrary, he ruined himself and he ruined everything."

She said he son was taken from her only 40 days after he was born. "I only saw him again 16 years later, and I couldn't believe that was my son," the mother said.




Adel Assi, 19, from Jaffa, was abandoned by his parents, became addicted to drugs, and spent the last few years living on the street and in different homeless shelters for youth. He also often went to visit his father in Nablus.

Israeli welfare services tried to help Abed, but none of the solutions offered to him lasted for more than a few months.

When he was 17, Abed spent three months at a shelter for homeless youth aged 14-21 in Tel Aviv's Neve Tzedek neighborhood operated by the Shanti House, a non-profit organization helping at-risk youth. He left after staff at the shelter urged him not to visit his father in Nablus, because they were concerned he would be taken advantage of by hostile elements.

"He didn't last here because at some point we forbad him from going to Nablus," Halit Levy, the Shanti House's coordinator, told Ynet. "He would go to his family in Nablus once a week, and we felt that an at-risk teenager regularly moving between Tel Aviv and Nablus, despite his blue (Israeli) ID, was dangerous."

"We told him we were no longer willing to allow him to regularly go to Nablus, only once every few months, and with us knowing who he's going to see, how long he's going for, and how he was coming back," she said, adding this eventually led Abed to leave the Shanti House.

Levy said that even after having left the Shanti House, Abed continued wandering from one institution to another, spending about six months at a homeless shelter in Tel Aviv operated by ELEM, another NGO for at-risk youth.

He was also treated by welfare services in Haifa and spent time in a shelter called "The House on Haim Street" as well as other youth shelters supervised by the Welfare Ministry.

"I don't know what circumstances, after he left the Shanti House, eventually led him to become a terrorist and carry out this awful act," Levy said. "It's very sad to us. I'm sad such a teenager kills a father of four. We're trying to help everyone, but we don't always succeed. Unfortunately we were not able to help Abed. He chose violence, which contradicts all of the Shanti House's values. But this won't discourage us from helping the next child."

"The Shanti House takes in over 1,500 children a year regardless of religion, race or gender. There are Jewish, Arab, Muslim, Christian, Eritrean, Ethiopian, gay and lesbian children here—of all kinds. 50,000 children went through the Shanti House and we've never had something like this," Levy added.

The ELEM organization said that it "doesn't report to the general public about those aided by it and protects their privacy. At the same time, the organization will of course cooperate with law enforcement authorities if required to do so."

The Labor and Welfare Ministry said Abed was "known to welfare services. Throughout the years, attempts were made to aid the young man who was abandoned by his parents, and he was offered several housing and rehabilitation solutions from the state, but he chose to stop the process every time."

The terrorist's Facebook page indicates he was depressed and conflicted. Over the past month and a half he became radicalized following US President Donald Trump's decision to recognize Jerusalem as Israel's capital.

"I was born in the dark and (so) I was raised, and I don't care about anyone's opinion," he wrote in one post in Hebrew.

Abed also admired Iraqi dictator Saddam Hussein, calling him the Arabs' "falcon" in one post and making another post in his memory.

A month ago, the terrorist wrote posted about two Palestinian icons—teen provocateur Ahed Tamimi and Mohammad Tawil, whose arrest video went viral among the Palestinians—both of whom he said held their heads high. At the same time, he lamented the situation of "a million" Palestinian prisoners in Israeli jails, half of whom he claimed died as a result of medical neglect.

In a post he wrote a month and a half ago, at the height of Palestinian protests against the US declaration on Jerusalem, Abed wrote "Muslims and Christians join forces in the conflict against the occupation" alongside photos of a man dressed as Santa Claus and a Palestinian youth throwing stones at Israeli forces.

In recent years, he also posted several videos showing armed Palestinian men shooting into the air as a show of force.