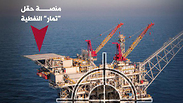 Hezbollah's flyers targeting Israel's gas rigs
Hezbollah threatens Israeli offshore gas rigs with missiles
Hezbollah publishes flyers, video staking claim to contested marine border territory, threatens Israel's natural gas drilling rigs with missiles; terror group's combative words came following statements by Lebanese politicians iterating similar position, objection to construction of border fence.
Hezbollah began disseminating flyers Tuesday quoting a recent speech by the Lebanese terrorist group's secretary-general Hassan Nasrallah in which he clarified that Lebanon will not forfeit its rights for operations in its exclusive economic maritime zones.

The flyers also contained an overt threat to Israel, saying, "Whoever harms gas and oil sites in Lebanese economic waters, their own sites will be harmed, and they know Lebanon is fully capable of doing so."

A video that accompanied the flyers presented a photo of Defense Minister Avigdor Lieberman and his recent statements regarding Israel's ownership of a contested area straddling the Israeli-Lebanese maritime border.

The video then showed footage of Israel's own offshore gas rigs and missile launches, illustrating the threat Hezbollah wished to convey.

Taken together, both the flyers and the video seem to be the Shiite group's way of scoring some political points in the internal Lebanese political arena, in anticipation of the upcoming parliamentary elections set to be held in Israel's northern neighbor after a protracted period of talks between the Cedar country's different factions.

Hezbollah was not the only one to attempt to rake in political capital over drilling rights in the contested area, nicknamed Block 9. Three of Lebanon's most senior political figures—President Michel Aoun, Prime Minister Saad Hariri and Parliament Speaker Nabih Berri—made a joint statement Tuesday after a meeting in the Beirut president palace reaffirming Lebanon's claim.

Lebanon is rather counting on the natural resources in the country's exclusive economic zone, expected to bring in considerable sums to the economy and reduce the national debt.

According to data published in Arab media outlets, Lebanon's exclusive economic zone was said to encompass some 22,000 square kilometers, whereas the size of the contentious Block 9 is 854 square kilometers.

Lebanon had recently undertaken the publication of tenders to receive bids from foreign companies to prospect for oil in several offshore sites, including Block 9.

Defense Minister Lieberman commented on the issue last week, when he accused Hezbollah of provocations and said Israel had retreated to the internationally-recognized border and was erecting a border wall on its territory.

Lieberman also commented on the first oil and gas exploration tender Lebanon published and said it would be a mistake for international firms to compete for it.

The defense minister's statements caused a furor in Lebanon, where officials took umbrage at Israel's ownership claim to the territory, allegedly given to Lebanon in accordance with international agreements.

The Lebanese triumvirate also discussed Lieberman's statements at the meeting.

"We've examined the data before us regarding the ramifications of threats posed by Israel, and consider them a grave breach of United Nations Security Council Resolution 1701 and a direct threat to stability in the border region since the resolution was implemented in August 2006, through a collaborative effort between the Lebanese army and UNFIL (United Nations Interim Force in Lebanon) forces," a statement by the three leaders said.

Hezbollah also commented on Lieberman's assertion last week, putting out an official announcement saying, "Lieberman's statements are a new expression of Israel's greed in the face of Lebanon's wealth, land and maritime territory. They are part of the policy of aggression against Lebanon, its sovereignty and its legitimate rights."

"We support the stances of the president, the prime minister and the parliament's speaker against this new form of aggression, and stress that we will object to any harm to (Lebanon's) oil and gas rights," Hezbollah's statement concluded.

Earlier Tuesday, during a tour of the Golan Heights near the Lebanese border, Prime Minister Benjamin Netanyahu said, "We desire peace, but remain prepared for any scenario, and I don't propose to anyone to test that resolve."