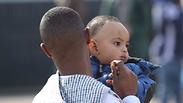 African migrants
Photo: Moti Kimchi
South Tel Aviv residents: We don't hate black people, but they must leave
Long-time residents of Hatikva neighborhood address controversial decision to deport African asylum seekers who have settled among them, say their neighborhood is 'falling apart.' Blaming government for neighborhood's neglected state, they say: 'Why should we live in fear?'
They have been living in Hatikvah neighborhood for decades and know each other since their children were small and still lived in the neighborhood, yet the veteran residents of south Tel Aviv described our recent meeting at the neighborhood's community center as one of the last remnants of their old communal life.

Addressing the controversial decision to deport asylum seekers, many of whom have settled in the blighted neighborhood, 72-year-old Yaffa Salah said: "I was born in Iraq, came to Israel 60 years ago and have lived in the neighborhood for 55 years. When I came, the place was nice and flourishing. The neighbors got along an would eat watermelon and sunflower seeds together. Today, the neighborhood has changed completely. The foreign migrants totally destroyed our neighborhood."

Salah says the foreigners drink lots of alcohol, driving many residents away. "They no longer want to live here. My problem is not with them, it is that they are in south Tel Aviv. They need to be moved to other places."

For Yaffa and her friends the controversy regarding the future of the Eritrean and Sudanese asylum seekers in Israel directly impacts the future of their neighborhood. They are less concerned with the question of deportation and more with their desire to live in safety.

"I feel that I have no more desire to live here anymore, they should be moved to north Tel Aviv. I am really scared to leave the house. Friday nights they sit and make barbeques; I feel as if it is no longer my country," said 73-year-old Tziporah Fattal.

"We blame the government. It is responsible for what is happening here," said another resident.

Ariel Zacharia, 58, was born in the neighborhood and never left. He says there is enough space for 13,000 people and the neighborhood now holds 25,000. "All sorts of real estate people turned their homes into residencies for money.

"They turned a warehouse into small apartments. People here are suffering. There are 11 kindergartens, one religious, the rest are for the foreigners. The youth flee the neighborhood," he said.

Zacharia relates that the neighborhood was never in such good shape, but the neighbors got along. He accuses the government for placing the Africans there.

"We do not hate blacks. There were all types of people living here. The Darfur refugees deserve protection, but they need to leave the neighborhood," he said.

Dalia Sharabi, 71, a neighborhood resident since the age of 11, believes there is only one solution: "They need to go back to their own countries. I was born here, why should I live in fear?" she asked.

"They are not refugees," said Shlomo Maslawi, head of the local council. "If they were refugees, they would behave differently. There are foreign workers here, Filipinos, Sri Lankans, who behave better. The laws must be upheld."

According to Shula Keshet, another resident, a social activist and director of Achoti (a Mizrachi feminist and socioeconomic organization), the government is trying to set various communities against one another. "The fact that the asylum seekers are in south Tel Aviv is no coincidence. It is part of a policy that is intended to abuse the residents here. South Tel Aviv is a crime scene and the crimes were committed by the government and the municipality. Expulsion is a crime on top of a crime. "