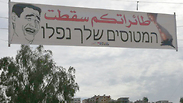 Rouhani warns Israel: Terror, bombings won't lead to results
Tehran and Hezbollah issue new threats in the wake of Syrian downing of Israeli F-16, which was retaliating against Iranian drone that infiltrated Israel; Iranian general: 'Iran can create a hell for the Zionist regime'; celebrations in Lebanon, Syria: 'Your planes went down.'
New threats emerged from Iran and its Lebanese proxy, Hezbollah, on Saturday after Syrian air defense shot down an Israeli F-16 fighter jet during a retaliatory strike after an Iranian drone originating in Syria infiltrated Israel, where it was shot down.
"If one country thinks it can achieve the desired results by increasing terrorism, interfering in the affairs of other countries, or by bombing neighboring countries - it is mistaken," Iranian President Hassan Rouhani said Saturday at a press conference with foreign ambassadors.
"A military solution, foreign intervention and the transfer of destructive weapons into the area are not the solution to the problems in the region," he stressed.
Rouhani added that his country was ready, more than ever before, to protect security in the region, calling on other countries to cooperate. "Today we created a triple, quadruple and quintuple cooperation in the region, and we see these relations contribute to the area," he said.
Earlier, the deputy head of Iran's Islamic Revolutionary Guards Corps, Hossein Salami, issued a threat to Israel, saying "Iran could destroy all American military bases in the region and create a hell for the Zionist regime."
While Salami refused to comment on the reported Israeli interception of the Iranian drone, Iran's Foreign Ministry rejected the reports as "ridiculous."
"Reports of downing an Iranian drone flying over Israel, and also Iran's involvement in attacking an Israeli jet are so ridiculous ... Iran only provides military advice to Syria," Iranian State TV quoted Foreign Ministry spokesman Bahram Qasemi as saying.
Hezbollah, meanwhile, announced that the downing of the Israeli fighter jet "is the complete failure of old equations," dubbing it "the beginning of a new strategic stage that would put an end to the exploitation of the sky and land in Syria."
Hezbollah further condemned Israel's "support of terrorism and takfiri (apostatic) organizations, and its interference in the Syrian crisis using aggression."
Residents in Lebanon and in Syria celebrated the downing of the plane, with signs put up on the Lebanese border saying "your planes went down" (sic), while Syrian residents in Damascus handed out candy.
An official Lebanese official told Sky News Saturday afternoon that the Lebanese army elevated its readiness to its highest level in the wake of the Israeli confrontation with Syria and Iran.
Two Israeli F-16 pilots were hurt Saturday morning after their plane was shot down and crashed in Israel following a retaliatory strike in Syria.
The pilots were able to bail out of the plane. One pilot was seriously wounded, while the other was only lightly hurt. They were taken to the Rambam Medical Center in Haifa for treatment.
The IDF's strike was in response to an earlier infiltration into Israel of an Iranian drone originating from an airfield near Palmyra, Syria, which was successfully intercepted by an IDF Apache helicopter.
Russia: Respect Syria's sovereignty
Immediately following the incident, Israel sought Russia's urgent intervention to prevent further escalation on its northern frontier, making it clear to the Russians it considered all of its warnings of Iranian entrenchment in Syria to have come to pass.
The Russians were also told that once again as predicted by Israel, Iran was destabilizing the region—counter to Russia's own interests.
"We are willing, prepared and capable to exact a heavy price from anyone that attacks us, however we are not looking to escalate the situation. This was a defensive effort triggered by an Iranian act of aggression and we are defending our airspace our sovereignty and civilians," an IDF spokesperson said.
Israel then sent similar message to the United States, which has been attempting to mediate between Israel and Lebanon in an effort to defuse tensions over the creation of a wall along the border between the two countries, and the dispute over economic borders and the contested Block 9 not far from the coastline of the two neighbors.
Moscow, for its part, said it was seriously concerned by the latest developments in Syria and called on the sides to exercise restraint and avoid an escalation of the situation, the Russian Foreign Ministry said on Saturday.
"We urge all sides to exercise restraint and to avoid any actions that could lead to an even greater complication of the situation," the ministry said in a statement. "It is necessary to unconditionally respect the sovereignty and territorial integrity of Syria and other countries in the region."
On Saturday morning, Russia's Interfax news agency quoted Israel's Ambassador to Moscow, Harry Koren, from an interview he did earlier this week.
"We prefer to talk about the implementation of different agreements on the zones of de-escalation, in our case, in the south on the border with Israel," Koren was quoted as saying.
"Specifically, any presence of Iranian units, Hezbollah and Shiite rebels should immediately be curtailed."
Israel attacked Syrian targets numerous times over the past few years—according to foreign sources—hitting installations and advanced weapons convoys headed for Hezbollah, usually with Iranian financing.
Tensions in the northern sector have been elevated over the past few weeks, especially following the unusual Israeli warning regarding retaliating to Iranian attempts to procure precision-targeted missiles in Lebanon.
Israel has long complained about the involvement of archenemy Iran, and Iranian proxy Hezbollah, in the Syria war. The Shiite allies have sent forces to back Syrian President Assad, who appears headed toward victory after years of fighting. Israel has said it will not accept a permanent military presence by Iran and its Shiite allies in Syria, especially near the Israeli border.
Israel has been warning of late of the increased Iranian involvement along its border in Syria and Lebanon. It fears Iran could use Syrian territory to stage attacks or create a land corridor from Iran to Lebanon that could allow it to transfer weapons more easily to Hezbollah.
Israel has shot down several drones that previously tried to infiltrate its territory from Syria. The targeting of an Iranian site in response, however, marks an escalation in the Israeli retaliation.
Reuters contributed to this story.