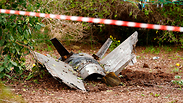 Syrian Missile remnants
Photo: AFP
IAF must now modify its offensive tactics
Analysis: Saturday's incidents, which signal dawn of new state of affairs with Iranians and Syrians coordinating offensive actions against Israel, require IAF to modify its tactics even in Israeli airspace; however, while the Iranians aimed for propaganda victory, they shot themselves in foot, as Iranian adventures endanger Russian interests and regional stability.
The fact that a Syrian anti-aircraft missile, fired from deep within Syria, managed to hit an Israeli jet flying over Israeli territory calls for the Israeli Air Force to modify its offensive tactics and its flight profile in certain instances, even while flying over Israeli airspace.
What exactly happened Saturday morning?
In the early morning hours, an IAF Apache helicopter downed an Iranian drone (UAV) that infiltrated Israeli airspace; Israeli jets then set out to attack Syrian and Iranian targets in Syria. The Syrians responded with anti-aircraft fire forcing two pilots to abandon their aircraft. The jet crashed in the central Galilee and the two pilots were hurt, one seriously.

IAF jet downed by Syrian missile

Israel proceeded to attack 12 targets in Syria and the Syrians continued their anti-aircraft fire. Air raid sirens went off in large parts of the Galilee, the Golan Heights and the northern Jordan Valley. Remnants of Syrian missiles landed in Israeli territory.



How was the plane downed?
In my opinion, the Syrians and Iranians did not plan an ambush, rather the four Israeli F-16s flying at a high altitude over Israel failed to assume that Syria would dare launch missiles into Israeli territory as a response to Israel attacking an Iranian target. Complacency is what led to the incident, which could have been avoided had the jets flown at a lower altitude.

Syrians have been in possession of SA-5 missiles for decades and their range, covering most of Israel, is well known. The SA-5 is a Russian missile designed to hit targets flying at long distances and high altitudes.

It is possible that the Russian have recently improved the missiles' homing system and made them immune to electronic disruption. However, there is no doubt that had the aircraft flown at a lower altitude on their return from Syria, they would not have been hit.

IAF helicopter downs Iranian drone (צילום: דובר צה"ל)
What was the Iranian objective?
Seemingly, the Iranian objective was to verify how vulnerable Israeli airspace is to infiltration by UAVs. Moreover, the Iranians sought to garner propaganda points had the infiltration proven successful.

The very deployment of stealth UAV, seemingly a copy of an American model that fell in Iran, was meant to show off an Iranian triumph, while acting against Israel.
How serious is the incident?
Saturday's incidents signal the dawn of a new state of affairs in which the Iranians and Syrians coordinate offensive actions against Israel. Until now, the Syrians and Iranians have responded to Israeli attacks through diplomatic channels or with anti-aircraft fire during or after Israeli attacks.

This time, events were initiated by the Iran's launch of an UAV and its infiltration of Israeli airspace; together with a massive barrage of anti-aircraft fire at Israeli jets responding to the Iranian provocation.

The fact that the Syrians launched anti-aircraft missiles at IAF aircraft deep over Israeli airspace is a serious violation of sovereignty. There is only one previous case: a year ago, Syria launched SA-5 missiles against Israeli jets that attacked Syria. The harsh Israeli response is meant to elucidate to the Syrians and Iranians that next time the response will be even harsher.
What about the Russians?
Russia's policy has been: as long as our interests are not interfered with, everyone can do whatever they want. The Iranian provocation directly endangers Russian interests, just as Prime Minister Benjamin Netanyahu had warned Russian President Vladimir Putin.

Due to our ability to defend our airspace, Israel allowed the Iranian drone to enter Israeli airspace and only then was it downed. It seems that the Iranians shot themselves in the foot while trying to create a short-term morale or propaganda victory.

The Israeli strike on the Syrian air field from which the drone was launched had to have been carried out with utmost precision to avoid hitting any Russian aircraft or personnel. The Iranian target was extremely small and difficult to detect.