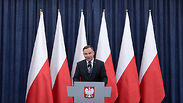 Polish President
Photo: Reuters
Israel has notified Poland that it will not receive a Polish delegation set to arrive to discuss the Holocaust Law until Warsaw expresses willingness to amend the controversial legislation, which outlaws blaming Poland as a nation for Holocaust crimes committed by Nazi Germany.

The law, approved by both houses of Polish parliament and signed by the president, caused a diplomatic rift between Israel and Poland.

Warsaw has appointed a five-person team, including diplomats and historians, to conduct a dialogue with a corresponding Israeli team in an effort to resolve the crisis.

The Polish Ambassador to Israel, Jacek Chodorowicz, was at the Foreign Ministry recently to coordinate the arrival of the Polish delegation, but the deputy director of the Western Europe Division, Rodica Radian-Gordon, told him that if Poland was not prepared to seriously consider amending the law, there was no need for the delegation to come.

Recent statements by Polish Presidential Adviser Andrzej Zybertowicz only fanned the flames when he told a Polish newspaper that: "Israel's reaction to the law stems from feelings of guilt for the Jews' passivity during the Holocaust."

Poland expected Israel to protest the law, but did not expect such a serious diplomatic crisis. Currently, they are seeking ways to alleviate the wrath without seeming to have folded and bowed to Israel's will.