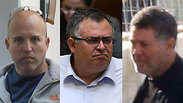 Glazer, Bitan, Yosef
Photo: Moti Kimchi, Alex K. Shaul Golan
Bitan recorded offering to help developer with Tel Aviv project
Investigators have recordings of the Likud MK offering to 'take care' of developer Dror Glazer, allegedly for bribes; Lobbyist serving as contact person between Glazer and Tel Aviv deputy mayor tells developer in recording: 'I'm supposed to share in the money.'
Likud MK David Bitan has been maintaining his silence during police questioning over alleged corruption at the Rishon LeZion municipality, but Lahav 433 investigators were recently able to surprise him when they produced a recording made by real estate developer Dror Glazer in which Bitan is heard offering his assistance to Glazer with a south Tel Aviv project.

"I will take care of you at city hall with (Tel Aviv deputy mayor) Arnon Giladi," Bitan can be heard saying to Glazer in one recording.

Lobbyist Merav Shmueli, meanwhile, was recorded telling Glazer: "I am supposed to share in the money."

Shmueli, the lobbyist, was allegedly the contact person between Glazer and Giladi.

Bitan's attorney Efraim Dimri said: "My client is maintaining his silence and is willing to confront anyone."

Last week, Ynet reported that the police began a series of confrontations between Moshe Yosef, a friend of Bitan who was considered his "banker," and other suspects in the case.

During a confrontation last week with the contractor Benny Sulimani, who was put on house arrest for nine days, Yosef said that in exchange for earth works, Sulimani paid him tens of thousands of shekels to be given to Bitan.

The second contractor involved was supposed to supply Yosef and Bitan with apartments in Rishon LeZion. Ultimately, the project did not go ahead and the deal did not materialize.