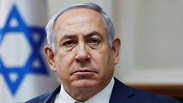 PM Netanyahu
Photo: Reuters
The High Court of Justice rejected Monday a petition calling on Public Security Minister Gilad Erdan to instruct Police Commissioner Roni Alsheikh not to include police recommendations on indictment in investigation files, including in the cases against Prime Minister Benjamin Netanyahu.

Justice Uri Shoham stated in his decision that the petition, filed by attorney Yossi Fuchs, "should be dismissed out of hand," as Fuchs failed not give any substantial legal reason for intervening in such a way.

Earlier that week, the State Attorney's Office said the petition is destined to be rejected, clarifying that the police do not give the prosecution a "recommendation" as to whether a suspect should be prosecuted, ie, whether to indict him.

"All that the police transmit, in accordance with the Attorney General's instructions, in cases in which such a report is transmitted, is a summary of the investigation file and its position regarding the entirety of the evidentiary infrastructure that was created during the interrogation," the State Attorney's Office said.

On Sunday, Attorney General Avichai Mandelblit asked the police to hold off on releasing their recommendations in the cases against Prime Minister Benjamin Netanyahu until the state has a chance to respond to Fuchs' petition.

A statement on behalf of the prime minister noted that "We are not familiar with this petition, which was apparently submitted a long time ago. It was of course not done on our behalf, and we were not aware of it. Regardless, we don't attach any importance to the recommendations, the value of which everyone now understands."

The police have been considering delaying the release of the recommendations in the wake of the weekend's escalation in the north.

On Wednesday, Police Commissioner Roni Alsheikh met with the police's senior brass to discuss the recommendations, with seeming consensus forming on recommending charging Netanyahu on the illicit gifts affair, as sufficient evidence exists to indict him for receiving bribes.

Several hours later, Netanyahu launched an unprecedented attack on Alsheikh, after the police chief accused "powerful" elements of trying to collect information about police officers involved in the investigations against the prime minister.

Over the weekend, Netanyahu and his aides have considered petitioning the High Court of Justice to prevent the publication of the police recommendations until the police chief's accusations are looked into.