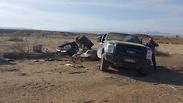 Seven soldiers were slightly injured when their vehicle drove over a landmine in the Jordan Valley Wednesday. Two of the soldiers were taken to Hadassah Medical Center in Jerusalem for treatment.

A preliminary investigation revealed that the soldiers, from a military engineering unit, were engaging in work related to fixing the fence around a minefield near the Christian pilgrimage site Qasr al-Yahud north of the Dead Sea. During their work, their vehicle drove over an old M15 anti-tank mine that had apparently shifted and got covered in sand due to strong winds.

GOC Central Command Maj.-Gen. Roni Numa appointed Commander of the Engineering unit, Colonel Max Nudelman, to head the investigation of the event.

Casualties due to stray landmines have been a rare occurrence in recent years, with the most recent incident being three years ago, when an IDF officer sustained moderate injuries from a landmine that exploded in the Golan Heights.