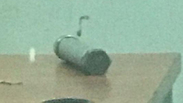 Pipe bomb
Photo: Border Police Spokesmen
In less than 24 hours, three different people attempted to smuggle pipe bombs into the Military Court in Salem, in the northern West Bank.

The attempts, which took place on Tuesday and Wednesday, were thwarted thanks to the vigilance of Border Police officers stationed at the entrance to the court.

A preliminary investigation into the incident on Wednesday revealed that a Border Police sergeant ordered one of the suspects to undress after he noticed him holding a suspicious item. It was then when the soldiers noticed a second suspect quickly ditch the bag he was holding, in which they found two explosive devices.

These events have become a common occurrence, say soldiers and police stationed there.

Five months ago, a resident of Jenin was apprehended while trying to enter Military Court with a pipe bomb.

Three days later, two Palestinians were arrested at the court's entrance in the same circumstance. In their interrogation, it was revealed that one of them was the brother of the suspect who had been arrested three days earlier. It was further revealed that his brother used to assemble the relatively primitive devices and send others to the court in attempts to perpetrate terror attacks.

Since his arrest, there was a decrease in such events, but the past two days have seen a sudden uptick in the dangerous phenomenon.