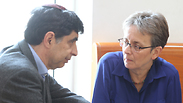 Simcha and Leah Goldin
Photo: Amit Shabi
Prof. Simcha Goldin, whose son Hadar Goldin was killed and captured by Hamas in Gaza during Operation Protective Edge, rejected on Thursday claims of a humanitarian crisis in the Gaza Strip, argued that "there is prosperity in Gaza," and accused Prime Minister Benjamin Netanyahu of "abandoning and ignoring" his son.

"The campaign about Gaza, as if there is some kind of a horrible humanitarian crisis there, which is why action is needed in one way or another, is a corrupt campaign which is not based on truth," Goldin said in an interview with Ynet.

"There is prosperity in Gaza, there are 100,000 new homes being built, which is why there is no state of emergency and no catastrophe there," he claimed.

Goldin said the family is scheduled to meet with the prime minister on March 15.

"Netanyahu knows he left in Gaza and excellent Golani officer and an excellent Givati officer. He knows that. The defense minister and the IDF chief also know that. The question is, what are they doing (about it)? They ignore and abandon, which is a very bad way to begin the 70th anniversary celebrations to the State of Israel," he accused.

The Goldin family took its struggle to the High Court of Justice in November, petitioning the court to bar the government from handing over the bodies of Hamas terrorists back to the organization, to order the government to revoke visitation rights from all Hamas prisoners in Israel as well as to reduce the number of entry visas for humanitarian purposes granted to Gaza residents.

"The Security Cabinet has decided to exert pressure on Hamas so it understands holding onto IDF soldiers is a burden, to send a message that Israel is changing the rules and a heavy toll will be exacted for every additional day they hold on to those soldiers," Simcha Goldin said in November.

"However, in a highly absurd situation, the government hasn't the slightest inclination to implement the Cabinet's decisions. Israel has completely halted visitations of Gaza residents to Israeli jails, but families in the West Bank are asking to visit prisoners on a daily basis. The government of Israel has capitulated to Hamas," Goldin accused.

The State Attorney's Office told the High Court on Thursday that Israel has recently stopped family visits to Hamas security prisoners from the West Bank, after having already barred visits of relatives from Gaza.

On Thursday, a panel of three High Court judges discussed the humanitarian entry given to Hamas members and their families for medical treatments.

The Goldin family demanded that the Security Cabinet's decision would be carried out in full, barring any entry of Hamas members into Israel for medical treatments.

"It is time to make it clear to Hamas and its people that the days of medical treatments in Israel are over, and from now until the return of the soldiers, these treatments would be done in Qatar, Turkey, Egypt and Jordan," the Goldin family said in a statement.

The judges made an exception Thursday, allowing Simcha Goldin to address the court during the hearing.

"Prime Minister Netanyahu led the Security Cabinet to make a decision to put pressure on Hamas, but we've noticed this decision is not being implemented," Prof. Goldin told the judges in pain. "The prime minister is not using his moral authority to return my son. That is why we sought legal aid, because we saw the prime minister's commitments are not in line with his actions."

"My son was killed during Operation Protective Edge, and we're entering the fourth year in which he is being held by Hamas in Gaza," Goldin continued. "I'm a lieutenant colonel in reserves, all of my children are army officers, and I know soldiers can die in battle. I taught my children that the IDF sends soldiers to battle and the prime minister is responsible for bringing them back."

"Three years ago, he (Netanyahu) said in a meeting with us that in any agreement with Gaza, the soldiers' return would be a precondition," Prof. Goldin claimed. "We've been seeing upgrades and rehabilitation done to Gaza in recent years, but it's not happening (the soldiers haven't been returned). This is why we went on this moral struggle to put pressure on Hamas."

He asked the court to "make sure the government follows through on its decisions," including the one to return his son and Shaul. "Had it been possible, I would've demanded to bring the prime minister here to provide answers for the family and the citizens of Israel on why this decision is not being implemented."

"He who has mercy on the cruel, is being cruel to the families of the kidnapped soldiers," Goldin charged.