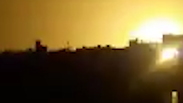 One of the IDF's attacks in Gaza
IDF attacks 18 Gaza targets after rocket hits Israeli home in south
After detonation of explosive device near Gaza border, IDF carries out attack against 6 Hamas targets in Gaza, including offensive tunnel, weapons manufacturing facility, military complex; in retaliation, rocket launched from Gaza hits roof of Sha'ar HaNegev home; IAF continues to pound terror targets overnight Saturday.
The IDF attacked 18 terror targets in the Gaza Strip overnight Saturday, just hours after the Israeli Air Force attacked six Hamas targets all across the Gaza Strip, including an offensive tunnel running from the Zaytun neighborhood in Gaza towards Israel.

Returning fire, a rocket launched from the strip landed on the roof of a residence in the Sha'ar HaNegev Regional Council. The family was home, but no one was harmed as the rocket failed to explode.

The rocket was launched mere hours after four IDF soldiers were wounded—two seriously and two moderately—when an explosive device detonated near the border fence. The IDF responded to the rocket's launch by again attacking a Hamas outpost in northern Gaza.

Saturday's events near the Gaza border (צילום: רועי עידן, בראל אפרים וחיים הורנשטיין)

The army "views with great severity the attempt by the Hamas terror organization to carry out popular and spontaneous demonstrations which are seemingly intended to turn the fence area in to a confrontation zone," and IDF statement said, "and to carry out there terror activities that will undermine stability in Gaza."

Residents reported hearing explosions after Code Red alarms were triggered in several Sha'ar HaNegev and Eshkol Regional Councils communities, although the Eshkol Code Red was later deemed a false alarm.

Amos, whose home was hit while he, his wife and their three children were home, said, "A huge miracle happened to us. Fortunately, our house's roof is heavily cemented and so the rocket couldn't get through."

"My youngest, who's 5, fell asleep already. My 9-year-old daughter and 12-year-old son were still awake, though," he continued. "We heard a Code Red alarm. We went into our shelter, as we're used to by now.

"The moment we entered there was a really loud explosion. The entire house shook. We went outside. My wife went out to our yard, saw the damage and called me.

"When I returned inside I saw the roof partially caved in. My daughter, who was already traumatized by (Operation) Protective Edge, took it really hard. There was a lot of panicking. My youngest, on the other hand, was asleep in the shelter and didn't even wake up.

"(The rocket) hit the roof and was diverted to a secondary roof. We've always lived with the feeling that it might happen to us—we live near Gaza, after all—but when it truly does happen, it's incomprehensible. It's really scary.

"The most important thing is no one was hurt. We'll be sleeping at our neighbors' tonight until the roof is fixed."

Later Saturday, A group of at least four Palestinians attempted to infiltrate the Israeli communities south of Gaza through Rafah. IDF forces picked up on the attempt and opened fire on the infiltrators using tanks and other means. Palestinian reports said two Palestinians were wounded by tank fire and were taken to a hospital.

Egypt has been appealing to both sides to prevent further escalation. Hamas's leadership notified Egypt on a visit to Cairo it had no interest in escalation in the strip, as per a Palestinian source in Gaza.

The IDF Spokesperson's Unit said Hamas terror targets were hit in Gaza, including a military complex on the former grounds of the evacuated Netzarim settlement "belonging to Hamas's unique military alignments, including weapons manufacturing sites." A Hamas military complex near Khan Yunis was also attacked.

Hamas responded to the IDF's attacks by saying Israel will be held responsible for the escalation in Gaza, and then later claimed to have targeted the air force's planes with antiaircraft fire—the first time Hamas admitted to targeting the army since Operation Protective Edge.

Palestinian Islamic Jihad added a threat of its own, saying, "Gaza's guns are ready and the arms of its sons will spread rage against the siege and aggression. Gaza is neither a picnic nor an agricultural farm for Israel."

The air force reportedly attacked Hamas outposts in eastern Gaza, as well as a rocket launch nook or an armament storage facility not far from the Karni crossing. Attacks have not yet targeted Islamic Jihad. An IDF tank fired at an observation post in the southern strip earlier.

Footage of one of the IDF's attacks in Gaza
4 soldiers wounded when explosive device affixed to Palestinian flag exploded
Among those wounded when the explosive device detonated were a Combat Engineering officer who was seriously wounded and a company commander from Golani's 13th Battalion who was lightly wounded.

Emergency services flooded the scene and the wounded were airlifted to the Soroka University Medical Center in Be'er Sheva.

Soroka's spokesman said, "After receiving initial treatment in the trauma room, the wounded were taken to operations." The hospital's deputy director added the soldiers' lives were not "immediately in danger."

A situation assessment was held Saturday evening following the explosion with the participation of Chief of Staff Gadi Eisenkot, GOC Southern Command Maj.-Gen. Eyal Zamir, Air Force Commander Maj.-Gen. Amikam Norkin and other IDF top brass.

The IDF also intends to create an inquiry team to investigate the manner in which the force handled its examination of the suspicious flag, but initial estimates said they followed accepted protocol.

"We consider any point in which a flag, bag or rock is is placed to be suspicious," the army said, adding, "This is an extremely serious terror incident that may destabilize the region. The device, which included a pipe and was part of a flag, was place on the Palestinian side of the fence with the explosion's main casualties coming from a Combat Engineering bomb removal squad, who seemed to have protection.

"The device belonged to rogue organizations and not Islamic Jihad. Hamas is responsible for the incident because it brought protesters to these 'spontaneous' demonstrations during the past few weeks, which are then utilized for terror."

The IDF noted a growing trend of escalation in the protests organized by Hamas near the border fence, which have included use of weapons such as frag grenades. The demonstrations were "unacceptable manipulations," as per the army.

Prime Minister Benjamin Netanyahu, attending a security conference in Munich, said, "Today's incident on the Gaza Strip border is severe. We will respond appropriately. I send my wishes for a quick recovery to the wounded."