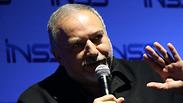 Defense Minister Lieberman
Photo: Motti Kimchi
Israeli security forces have arrested members of an Islamic Jihad terror cell that was planning to plant a bomb on a road Defense Minister Avigdor Lieberman's convoy was set to travel on, it was cleared for publication Sunday morning.
This is the second time in recent years that the Shin Bet has uncovered a plot to kill Lieberman, who lives in the Nokdim settlement in Gush Etzion. Last time was during Operation Protective Edge, when Lieberman was the foreign minister and Hamas sought to target his convoy.
The Islamic Jihad cell members were aware of past failed attempts and believed they would be more successful if they planted the explosive on the minister's travel route. However, they were apparently deterred by the heavy security surrounding Lieberman.
Another terror cell was operating in the Bethlehem area was also broken up in joint operation conducted by the Shin Bet, the IDF and the Israel Police. The cell was planning to carry out shooting attack against IDF soldiers and Israeli civilians in the Gush Etzion area. Overall, six terrorists were arrested.
One of the terrorists arrested, Awad Mahmoud Awad al-Asakra, 25, from the Rafidia neighborhood of Bethlehem, is an Islamic Jihad member who was placed under administrative detention for two years between 2015 and 2017 for plotting to carry out an attack.
Another suspect, Mohammed Ali Ibrahim al-Asakra, 32, also from Rafidia, was imprisoned by Israel twice in the past for his activity in Islamic Jihad and his involvement in preparing an explosive device and planning an attack against IDF forces.
The Shin Bet's investigation found that the cell purchased explosives to prepare the bomb and approached terror elements in the Gaza Strip for funding.
When they failed to secure the funding, they decided to prepare a dummy bomb in an effort to get money and recognition, so they could carry out even more attacks. The dummy bomb was seized when they were arrested.
The investigation also revealed one of the cell members wanted to be arrested so he could receive a prisoner's salary from Islamic Jihad.
Overall, six terrorists were arrested. The suspects will be indicted Sunday at the Judea Military Court.