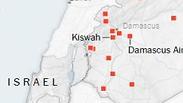 The Iranian presence in Syria
Report: Iran already entrenched in Syria, ready to confront Israel
New York Times maps out Iranian entrenchment in Syria, quotes experts as saying Shiite giant is strengthening alliances with local forces, trains, provides financing to militants in attempt to create 'united front' against Israel in any future conflict.
A New York Times investigative report published Monday revealed the scope and depth of Iranian entrenchment in Syria. Iran, through its presence in Syria, was "redrawing the strategic map of the region," as per the paper.

Prime Minister Benjamin Netanyahu cautioned this week that Iran was "trying to take over Syria" and "moving its army into Israel's backyard."

The American newspaper mapped out Iranian bases and posts inside Syria, presenting a high concentration of Iranian outposts along the border with Israel.

The red squares on the map above represent administrative bases, logistical bases, control centers for UAVs (drones), training centers and more. The map does not, however, include temporary bases established near zones of conflict.

Iran has trained and continues to finance powerful militias comprised of thousands of Iranian-trained guerrillas on Syrian soil, according to the Times' report.

The Shiite juggernaut is also equipping said militants with advanced technologies, including drones, used both to collect intelligence and, possibly, to carry out aerial attacks.

Iran is also said to be preparing infrastructure for the construction of underground weapons depots.

Israeli officials, as well as enemy states, believe that a new confrontation between Israel and Iran, or one of its allies, will undoubtedly involve this so-called "axis of resistance."

Founder of the Center for American Strategic Studies in Beirut Kamel Wazne—who studies Iranian and American policies in the Middle East—said, "If there is a war, it will be regional. Any confrontation will be with the whole resistance front against Israel and its backers."

Iran and its allies first interceded in the Syrian fighting when the war broke out in 2011, in order to help defend the beleaguered regime of Syrian President Bashar Assad. Later, Iran also assisted in battling Islamic State insurgents.

Despite the fact that the rebel forces fighting against Assad have lost enormous amounts of ground and can no longer be considered a true threat, experts say, Iran and its allies remained in the area and repurposed their mission—creating a united front to pose a true threat to Israel.

In order to create said united front, Iran is busily strengthening its ties to both Iraq and Lebanon, in the hope of acting in unison if a war broke out.

Amir Toumaj, a researcher at the Foundation for Defense of Democracies, said, "The ultimate goal is, in the case of another war, to make Syria a new front between Israel, Hezbollah and Iran. They are making that not just a goal, but a reality."

Israeli officials, meanwhile, maintain that Iran and its allies are attempting to create a land corridor from Iran itself into the Mediterranean—passing through Iraq, Syria and Lebanon along the way.

Once completed, the corridor could then greatly facilitate the transfer of arms and the construction of underground armament factories in both Lebanon and Syria.

Iranian leadership, for its part, never attempted to hide its attempts to create the anti-Israeli united front. The key to the Iranian strategy, experts said, is not to rely on conventional military means or control over land—which Israel could easily bomb—but instead to hone in on creating alliances with likeminded local forces that enjoy the training and financing Iran provides.

The aforementioned approach allowed Iran to multiply its strength within the Arab world, while decreasing the threats its forces face. The method is also a major problem for Israel, the United States and Saudi Arabia, which are well aware of Iran's influence in the region but remain unsure of how to defuse it.

Some 20,000 Iranian combatants, "instructors," and "specialist advisers" are currently in Syria, according to estimates. They were joined by Iraqi, Hezbollah and Lebanese militants as well as mercenaries from Pakistan and Afghanistan.

Another expert named Ali Alfoneh explained that, "Iran has realized that it is actually possible to maintain a front against Israel where there is no war—but also no peace."

Alfoneh has pinpointed three significant Iranian bases in Syria that act as headquarters for operations across large swaths of Syrian land—one near Aleppo in the north and two south of the capital Damascus.

Seven small additional bases were erected near conflict zones in which Iranian armed forces were embroiled in fighting.

Iran's moves in the region also drew warning signs in Washington. President Donald Trump's National Security Adviser Lt.-Gen. H.R. McMaster said during the Munich Security Conference this week that, "What's particularly concerning is that this network of proxies is becoming more and more capable as Iran seeds more and more of its destructive weapons into these networks. The time is now, we think, to act against Iran."

A senior Israel Air Force officer was quoted by the Times as saying that Iran's intentions remained muddled, and Israel continued to inspect the drone that was downed over Israeli territory recently—whether it was armed, whether it was launched for reconnaissance or whether Iran merely intended to test Israeli alertness and preparedness.

The drone infiltrated Israeli airspace about a week ago and was shot down by the air forces. The IDF attacked Iranian targets in Syria in retaliation, prompting Syrian forces to fire dozes of antiaircraft missiles at the Israeli jets, causing one plane to crash.

The IDF Spokesperson's Unit said after the incident that, "Iran is dragging the entire region into an adventure whose end is shrouded in darkness. It was a grievous violation of Israeli sovereignty by Iran. Anyone involved in the drone's launch was targeted."

Arab media outlets reported in December 2017 that Israel attacked an Iranian base near the Syrian town of al-Kiswah, 15 kilometers southwest of Damascus. The attack was carried out three weeks after the BBC first made public the base's existence. Its report showed satellite photos of the complex, situated only 50 kilometers from the Golan Heights.