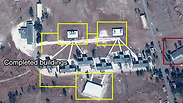 The Iranian base reportedly bombed by IAF
Photo: Digital Globe, McKenze intelligence Services ,BBC
Reports: Israel attacks Iranian base near Damascus
Syrian sources report Israeli Air Force attack near Damascus, causing power outages, loud explosions in capital, suburbs; Assad regime retaliates with antiaircraft fire, with 3 of 5 missiles reportedly downed; Lebanese paper reports Israel conducted dummy raids over Lebanon, one of which was used to attack the base.
Arab media outlets reported Saturday Israel attacked an Iranian base near the town of al-Kiswah, 15 kilometers southwest of Syrian capital Damascus. Arab-language Sky News reported that Israeli fighter jets launched air-to-surface missiles from Lebanese airspace at the compound.

Syrian state television corroborated the report, saying Israeli missiles struck a military position near Damascus overnight and Syria's air defense system thwarted them.

"The Israeli enemy launched...several surface-to-surface missiles towards a military position," state television said, adding there had been "material losses" at the site.

A BBC report revealed the base's existence three weeks ago, showing satellite images of the compound, located 50 kilometers from the Israeli Golan Heights.

Explosions and light flashes visible over Damascus

Media outlets affiliated with Syrian President Bashar al-Assad's regime and with Hezbollah reported the jets attacked a stockpile of ammunition belonging to the Syrian Army's First Division between the towns of Sahnaya and al-Kiswah.

The attack was carried out using five missiles, whereas antiaircraft systems deployed in a military airport in the Mezzeh neighborhood of the Syrian capital were able to shoot down three of them. The remaining two missiles detonated near the cache.

The Hezbollah-affiliated Lebanese Al Akhbar newspaper reported the Israeli jets conducted several dummy raids over Lebanese territory, with one of them used to attack the stockpiles, which were located in a vast military complex larger in size than Lebanese capital Beirut, the report said.

The Syrian Observatory for Human Rights reported loud explosions clearly audibly throughout Damascus and its outliers and light flashes seen around the capital. The Observatory further reported power outages in many areas of the Syrian capital.

Opposition sources, meanwhile, posted unconfirmed reports to social media that the attack was aimed at a Hezbollah outpost near the 91st Brigade of the Syrian Army's First Division.

The BBC network originally reported satellite imagery three weeks ago it said showed construction work being done on the base near al-Kiswah, between January and October of this year. The images showed more than 20 relatively short buildings the network said were most likely used as barracks for soldiers and to house vehicles.

This past summer, Prime Minister Benjamin Netanyahu said intelligence reports showed Iran was ramping up its expansion in Syria.

"The Mossad chief gave the government a review of the security threats Israel faces. I'll summarize in one sentence: the Islamic State moves out while Iran moves in. It's quite simple. We're mostly talking about Syria here. We are vehemently opposed to the military entrenchment of Iran and its satellites—first and foremost Hezbollah—in Syria, and we'll do whatever it takes to preserve Israel's security," the prime minister said in August.

In the past four years dozens of attacks in Syria were attributed by various media outlets to Israel, usually reporting the aim was to hinder efforts to transfer relatively advanced—or "balance-breaking"—weaponry to Hezbollah.