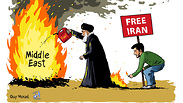 The European Parliament has declined a request to host an exhibition of caricatures meant to display the true face of the Iranian regime and its human rights violation, which will instead take place outside the building in Brussels on Wednesday.

Ten months ago, the Israeli Cartoon Project (TICP), together with the American Jewish Committee, sought the help of Yesh Atid leader Yair Lapid with asking EU to display the exhibition on parliament grounds in Brussels.

But a few days ago, the parliament notified organizers that the exhibition was cancelled, offering only a vague explanation: "The exhibition is controversial."

Organizers decided not to give up and have the exhibition near the parliament building.

"The decision by the EU to cancel the caricature exhibition makes the EU themselves a caricature," said Lapid. "They failed in differentiating between killers and prey, between terrorists and victims. This exhibit was set in Brussels to remind the world of the simple truth: Iran is an Islamic terror dictatorship that believes in bloodshed."

The exhibit focuses on a wide range of serious human rights violations in Iran and its proxies: violation of women's rights, repression of the political opposition through arrests and execution of political activists accused of crimes, oppression of homosexuals and Sunni and Baha'i minorities, underage marriages, death sentences for minors, etc.

The list of artists involved includes some of the best illustrators and cartoonists in Israel: Shay Charka,U ri Fink, Guy Morad, Elhanan Ben Ari, Moshik Gulst, Asher Schwartz, Vladic Sandler, Yotam Fishbein, Din Gach, Moshik Lin and others.

"We are here to express solidarity with the Iranian people," said Fink. "I always prefer war by cartoons rather than by drones, this is a wonderful way to convey the message."

Shay Charka added, "I look at Persian illustrations from the 14th and 15th centuries, and I cannot believe that all this aesthetic and cultural richness simply disappeared. They are just buried under the terror regime of the Ayatollahs. I think if the Iranian people are freed from the yoke of their government, not only will we benefit from the removal of a threat over our heads, but the whole Muslim world will receive an opportunity to rebuild and begin a new and better phase."

Avital Liebowitz, Director of the AFC in Israel, said, "Advancing human rights all over the world is central to us as Jews. We organized the Brussels exhibition to raise the issue of human rights violations in Iran. Because the issue of human rights is a constant occupation of the EU, it is right to discuss the brutal violations in Iran."

During his trip to Brussels, Lapid will meet with the High Representative of the European Union for Foreign Affairs and Security Policy, Federica Mogherini, and discuss the Israeli opposition to Iranian bases in Syria.