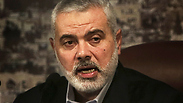 Hamas leaders in Cairo to talk Gaza crisis, possible deal with Israel
Large delegation of Hamas officials, including leader Ismail Haniyeh, in the Egyptian capital to discuss reconciliation with Fatah, humanitarian crisis in the strip, and possible prisoner exchange deal with Israel; visit is unusually long.
A large delegation of senior Hamas officials from Gaza and abroad, including leader Ismail Haniyeh, has been in Cairo for the past two weeks for talks with top Egyptian intelligence officials and for internal discussions.

An initial delegation, led by Haniyeh, left Gaza in early February without prior notice and has since been joined by additional members of the organization's leadership for an unusually long visit.

Haniyeh was joined by Khalil al-Hayya, Rohi Mushtaha and Fathi Hamad. Several days ago, Mousa Abu Marzouk, Izzat Al-Rishiq and Mohammed Nasser also arrived in Cairo.

Humanitarian crisis in Gaza

Hamas claimed the visit was meant to discuss ways to ease the suffering of Gaza residents amidst the humanitarian crisis in the strip, but it appears this is not the main or only reason for the trip.

Reports from different sources indicated Marwan Issa, the deputy Hamas military leader, joined the talks in Cairo along with other senior officials in the Izz ad-Din al-Qassam Brigade.

Sources in the Gaza Strip told Ynet that the arrival of the delegation from Hamas's military wing had to do with talks over a possible prisoner exchange deal between Hamas and Israel, but there has been no significant development on the matter so far.

However, it is believed the main reason for the Hamas delegation's extended stay in Cairo has to do mostly with the crisis in the reconciliation between Hamas and Fatah, after having reached a stalemate yet again. It is unlikely any progress will be achieved, due to the deep disagreements and the fact each side remains entrenched in its positions.

The Hamas delegation has been discussing several alternatives for the current situation, in which the Palestinian Authority has some level of civilian control in the strip, but not enough to manage daily lives.

One such option is to establish a "national rescue government" in the Gaza Strip only, which will in effect remove the national unity government from the strip and run it instead. This new government would be no different to the administrative committee that operated like a government before the signing of the reconciliation agreement four months ago.

This option could lead Palestinian Authority President Mahmoud Abbas to increase his sanctions on the Gaza Strip in an effort to further pressure Hamas and egg the local population to rebel against the terror group.

Another possibility being discussed is establishing an administrative body for the strip with Abbas's rival, former Fatah leader Mohammed Dahlan. This possibility was raised even before the reconciliation, and some say it pushed Abbas to sign the reconciliation agreement to prevent his sworn enemy from taking over the Gaza Strip.