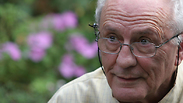 Zeev Sternhell. Won't give up
Photo: Gil Yohanan
An auto-anti-Semitic abomination
Op-ed: Zeev Sternhell, who has been trying to present Israel as a fascist state for the past 40 years, is now comparing Israel to 'the beginning of Nazism.' The Nazis demonized the Jews; Sternhell is demonizing Israel. Instead of advancing understanding, peace or reconciliation, he is fanning the flames of hatred and hostility.
Zeev Sternhell published an article in Le Monde this week, under a title comparing modern Israel to the beginning of Nazism. Similar and identical articles have been published by Sternhell in Hebrew as well.

It didn't start today. Sternhell has been trying to turn Israel into a fascist state for the past 40 years. For 40 years now, he has been repeating the same chorus of falsehoods again and again.

Forty years ago, Sternhell wrote about one Israel, which is liberal, moderate and educated, with a "very Western Ashkenazi nature," compared to the other Israel, comprised of Jews of Sephardic descent, which he sees as "aggressive, radical, clerical." Clearly, this generalization is racism, but Sternhell likely sees himself as the representative of enlightenment.

Nevertheless, Sternhell has won the Israel Prize, which is the most prestigious prize awarded by the State of Israel. Israel is, without a doubt, a special country, giving its most important prize to someone who calls it a fascist state. There is no other "fascist" state of this kind in the world. But Sternhell won't give up. Fascism is no longer enough. Now, he's moving to Nazism.

Criticizing Israeli policy is perfectly okay, both on issues related to the Palestinians and on issues related to the peace process and to the attitude towards Israel's Arab citizens. That's exactly what 80 percent of Israeli journalists and academics are doing. They are ceaselessly criticizing. This isn't one of the characteristics of a fascist state, but Sternhell is insisting on creating a reality which has nothing to do with the facts.

According to Sternhell, Israel is a "monster for non-Jews living under its rule." A monster, no less.

Is it true? By all possible standards, Israel's Arabs are in a better situation than Arabs in all neighboring countries. They receive full citizen equality. There are businesspeople among them—a new generation of young people working in high-tech, engineers, journalists, doctors and judges.

When the president of the Jewish state, Moshe Katsav, was sent to prison, the panel of three judges was presided by an Arab judge, George Karra. Since then, that judge has made it to the Supreme Court. How many Arab judges are there in Europe's high courts? Zero, or close to zero.

In the field of education, the gaps between Jews and Arabs have been reduced like in no other nation state in the world. In 2017, Arab students made up 16.1 percent of all students (compared to 26 percent in the age group). More importantly, in 2007 they made up only 9.7 percent. And in any event, within one decade their number has increased by more than 100 percent, from 20,000 in 2007 to nearly 47,000 in 2017. The jump in the number of Arab students over the past decade is much bigger than the smaller rise in the number of Jewish students.

Is this the image of a country which is a "monster" for minorities? Is there any other Western state in the world that can present similar figures?

The Palestinians have scored a noteworthy achievement under Israeli rule: In 1967, the life expectancy of Palestinians in the territories occupied by Israel was 48.6 years. In 2017, the life expectancy in the Gaza Strip was 74.2 years and the life expectancy in the West Bank was 75.2, higher than most Arab countries.

In 1967, there wasn't a single higher education institution in the West Bank and in the strip. Today, there are more than 40 higher education institutions, and the number of university graduates is the highest in the Arab world.

In 1967, only four of 708 communities were connected to running water. In 2004, there were already 641 communities which were connected to running water.

There are many just claims against Israel. But is this the way a "monster" acts? Is this what Nazism looks like, or the beginning of Nazism?

To prove how Israel has deteriorated, Sternhell presents comments made by two Knesset members, Miki Zohar and Bezalel Smotrich. The French public doesn't know this, but these two represent the extreme end of the Israeli Right. There are similar phenomena in every parliament in Europe. But no one thinks a certain country is fascist just because it has a few radical right-wing members of parliament. And in any event, the radical Right in France is bigger than the radical Right in Israel. Nevertheless, France isn't fascist and isn't experiencing the beginning of Nazism.

Sternhell is trying to create the impression that Zohar and Smotrich represent Israel. In fact, they don't even represent the Right. Zohar is in favor of annexing the West Bank without giving the Arabs voting rights. That's such a foolish stance, that when Zohar made it public he received wall-to-wall condemnations and was made a laughing stock in most media outlets.

The Israeli Right, part of which supports an annexation, is usually also in favor of giving Palestinians full rights. Deputy Foreign Minister Tzipi Hotovely has clarified, "I am in favor of giving them voting rights. I am in favor of annexation and granting citizenship." And President Reuven Rivlin, a rightist who is also in favor of an annexation, has clarified: "I believe in the Greater Land of Israel. The price is civil rights for the Palestinians."

Needless to say, most Israelis reject the right-wing stance in favor of an annexation, with or without civil rights. A recent survey revealed that most Likud voters are not in favor of an annexation either: Fifty-two percent of Likud voters prefer an agreement (based on a Jewish state alongside a demilitarized Palestinian state), only 31 percent support an annexation and 18 percent support a unilateral separation. But Sternhell is presenting the opinion of two MKs from the extreme right in a bid to turn Israel into an almost Nazi state.

Let's be clear: Criticism against Israel and against Israel's policy is legitimate. Annexing the territories is a foolish idea, and annexing without rights is racist apartheid. But there is a difference between criticism and demonization.

Israel is a democracy. Sternhell can publish whatever he wants—including false claims about fascism, and even Nazism—and win the Israel Prize.

Most intellectuals and most journalists engage in criticism all the time. Usually, it's legitimate criticism. But not Sternhell. His manipulations are an abomination. He is doing exactly what the radical and racist right does when it uses comments by Islamists-jihadists to argue that most or all Muslims are Nazis.

With Sternhell, it's even worse. He is adopting dark methods from the past. The Nazis demonized the Jews. Sternhell is demonizing Israel. The Nazis lied to brainwash the unenlightened masses. Sternhell is lying to get the message through to readers who are considered enlightened.

Sternhell—and he is not alone—isn't publishing articles that advance understanding, peace or reconciliation. All he is doing is fanning the flames of hatred and hostility.

The responses to the article make it clear that the anti-Semites are celebrating. They have always argued that the Jews are the monsters. Sternhell is providing them with lies to reinforce them.

In Israeli democracy, even auto-anti-Semites like Sternhell can be seen as enlightened and thinking people. But we mustn't let that confuse us. Sternhell and his likes belong to the racist and unenlightened camp.

Ben-Dror Yemini is the author of Industry of Lies , which has recently been published in English.