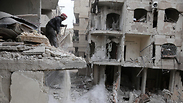 Ruins of a building in Syria
Photo: AFP
Russia blocking immediate ceasefire in Syria
Fear of humanitarian collapse in Syria after more than 400 people killed in Damascus outskirts this past week; UN Security Council to vote on resolution calling for ceasefire, but instead of demanding it enter into force 72 hours after adoption, Russia pushes for resolution to call for end to hostilities 'without delay'; US Envoy to UN Haley: 'How many more people die before Security Council agrees to take up vote?'
The United Nations Security Council is set to vote Saturday on a draft resolution calling for a 30-day humanitarian ceasefire across Syria, but Russian insistence that such provisional halting of hostilities cannot be immediate may neuter the decision.

More than 400 people were killed in fighting in eastern Ghouta, on the outskirts of Damascus, with multiple countries warning the war torn country was on the verge of a humanitarian disaster and following US National Security Adviser H.R. McMaster accusing the regime of Syrian President Bashar Assad of using chemical weapons.

Conflict rages on in the outskirts of Damascus

Russia's UN Ambassador Vassily Nebenzia, however, has called an immediate cease-fire unrealistic, and in an apparent bid to get Russian support, sponsors Kuwait and Sweden amended the draft resolution to drop a demand that the cease-fire take effect 72 hours after the resolution's adoption.

Instead, the new text circulated Friday night "demands that all parties cease hostilities without delay."

Earlier, after six hours of negotiations, Kuwait's UN Ambassador Mansour Al-Otaiba, the current council president, told reporters Friday evening that members "are so close" to agreement, and negotiations are continuing.

He said the council will meet at noon EST on Saturday and there will be a vote.

The latest draft resolution says a cease-fire must be followed immediately by access for humanitarian convoys and medical teams to evacuate the critically ill and wounded.

It states that 5.6 million people in 1,244 communities are in "acute need," including 2.9 million in hard-to-reach and besieged locations.

A Russian-proposed amendment, which the sponsors rejected, would have ruled out an immediate cease-fire. Instead, it would have demanded that all parties "stop hostilities as soon as possible" and work for a "humanitarian pause" for at least 30 days.

Sweden's UN Ambassador Olof Skoog echoed Al-Otaiba, telling reporters that council members have been "very, very close" to agreement—"but we have not been able to close the gap completely."

"We all agree there needs to be a cease-fire and it has to be urgent, immediately," he said. "There are still some discussions on exactly how to define that. So that's what we're working on."

Skoog said he was "extremely frustrated" that the council was unable to adopt the resolution on Thursday or Friday because the situation on the ground is dire and demands immediate council action.

US Ambassador Nikki Haley, who did not participate in Friday's negotiations, tweeted, "Unbelievable that Russia is stalling a vote on a ceasefire allowing humanitarian access in Syria. How many more people will die before the Security Council agrees to take up this vote?"

Sweden and Kuwait, and their council supporters, have been pressing for immediate action as deaths mount in a Syrian bombing campaign in the rebel-held suburbs of Damascus known as eastern Ghouta.

"It is about saving lives," Sweden's Skoog said earlier. "UN convoys and evacuation teams are ready to go. It's time for the council to come together and shoulder its responsibility to urgently avert a situation that is beyond words in its desperation."

Bombing campaign in eastern Ghouta this week (צילום: רויטרס)

The draft resolution would authorize one exemption from the cease-fire.

It would allow attacks directed at extremists from the Islamic State group and all al-Qaida affiliates including the Nusra Front to continue. The Syrian government and its Russian allies say they are pursuing Islamic extremists they call "terrorists"—and US-backed forces are also going after IS and al-Qaida militants.

The latest draft resolution does include several other Russian proposals.

It stresses the need for "guarantees" from countries with influence on government and opposition forces to support and create conditions for a lasting cease-fire. The sponsors also added language expressing "outrage" at the shelling of Damascus, including on diplomatic premises, which is a proposal Russia wanted.

Earlier this week, UN Secretary-General Antonio Guterres urged an immediate suspension of "all war activities" in eastern Ghouta, where he said 400,000 people are living "in hell on earth."
Additional Russian stealth bombers sent to Syria
Russian channel RT reported Saturday that Russia sent two more state-of-the-art fighter Sukhoi Su-57 fighter jets to its base in Syria, on the heels of an announcement earlier this week that the first two jets arrived to the war-torn country.
The two additional planes landed at the Khmeimim Russian air base, it was reported, bringing the total number of jets in Russia's ally to four—despite the fact the Russian Air Force had yet to use them in routine operations.
Footage of the alleged landing of the Sukhoi Su-57s
Vladimir Gutenov, a member of Russia's lower house of parliament, told the Sputnik news agency that the presence of the Su-57s will doubtlessly send a political message, serving as a deterrent "for aircraft from neighboring states which periodically fly into Syrian airspace uninvited."
The Russian lawmaker added that the Sukhoi fighter jets "needed to be tested in combat conditions, in conditions of enemy resistance," the lawmaker added.
A senior American military official, meanwhile, also said Russia sent the Sukhoi jets to Syria and said it was a development that may escalate dangers faced by American forces operating in the region.
The Russian army first landed two Sukhoi 57 jets in Syria, it was reported earlier this week by a Russian research institute and the Kommersant Russian paper.
While the reports were not corroborated by the Russian Defense Ministry, photos coming from Syria showed what it appeared to be the jets landing at a Russian base in Syria on the shore of the Mediterranean.
The arrival of the cutting edge Sukhoi Su-57s was accompanied by earlier model four Su-35 and four Su-25 jets.
The aforementioned jet's model was only recently changed from T-50 to Sukhoi Su-57. The commander of the Russian Air Force described the plane as a "wonderful war machine" and said last month, "Every country wished it had such planes, and we do."
The Sukhoi Su-57 possessed the latest stealth technological capabilities, according to Russian sources, making it exceedingly hard for enemy radars to track it. Newsweek magazine previously reported the jet will carry a payload of K-77M missiles, which have a range of up to 200 kilometers.
Newly released satellite imagery by the Israeli company ImageSat showed the new Russian Su-57 jets at the Hmeimim Airbase near Latakia in western Syria.
According to ImageSat, this is the first evidence of the presence of these stealth fighter jets in Syria.
So far, according to the Russians and various other publications on the subject—these aircraft are considered non-operational, and are still in development.
Aviation experts estimate that the Russians plan to test the aircraft's systems and use it only in intelligence gathering missions, using Syria as a "test ground" for the advanced aircraft.
Russian General Vladimir Shamanov said before the Russian parliament's Defense Committee that Russia tested more than 200 different kinds of new armaments in Syria.
"This is the manner in which we prove the world the superiority of Russian weapons," he said at a hearing held this past Wednesday for "Defender of the Fatherland Day." The Russia general did not, however, specify which weapons he was referring to and when and where they were tested.