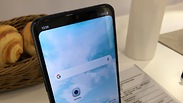 The new G7
Photo: Guy Levy
BARCELONA - The arms race continues in the world of smartphones, and after Samsung showcased its new Galaxy S9 at the Mobile World Conference in Barcelona, the world waits with baited breath for three other leading companies to reveal their new devices.

Huawei is set to launch its new P20 at an event in Paris next month, while Xiaomi will wait for a different opportunity to present its new phone as well.

LG is also expected to hold a separate event to display its new G7 model, but despite this, Ynet has been able to get its hands on the new LG phone, at least three months before its launch date.

The new G7 from LG (צילום: גיא לוי)

In the phone's 6-inch screen, LG uses a new technology based on OLED, but taking it one step further—with an incomprehensible 900 PPI display. The screen resolution is 3120X1440 at a ratio of 19:5.9.

LG has adopted the same small notch in the upper part of the phone as iPhone X, where it put the device's front-facing 8 megapixel, wide-angle camera.

The back part of the device includes a pair of new 16 megapixel cameras. The first camera has F/1.6 lens aperture and an optical stabilizer, while the other one has F/1.6 wide angle lens aperture. The back of the device also has a fingerprint scanner.

The device boasts a Snapdragon 845 processor from Qualcomm, while its basic version will have 64GB of memory alongside 4GB of RAM. An even stronger version will have 128GB of storage space alongside 6GB of RAM. The battery, meanwhile, has a 3,000mAH rating.

LG is also making improvements in the G7's sound quality, with DTS:X sound technology and a new development called Boom Box, which will allow the speakers to play music at a stronger resonance when the device is placed on a surface of any kind.

The device will naturally include the Google Assistant, and artificial intelligence allowing the camera to identify the objects it takes pictures of.