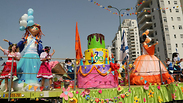 Purim celebrants
Photo: Zvika Tishler
Tens of thousands across Israel watched and participated Thursday morning in the Adloyada festivities in celebration of Purim, transforming the country's streets into a colorful and glistening parade of costume enthusiasts.

The traditional Adloyada in Holon took place this year under the slogan "Selfie for Israel," which also celebrated the 70th anniversary of the establishment of the State of Israel.

Purim festivities (צילום: ירון כהן, עידו ארז, גיל יוחנן, משי בן עמי)

Police Commissioner Roni Alsheikh arrived at the festivities to inspect police preparations closely, accompanied by regional officers.

In Netanya, the procession marched along Shalom Aleichem Street to the Winter Lake Park.




The Holon's Adloyada march began at 12:00 noon, and this morning the police blocked major streets in the city in preparation for it.

Thousands of dancers and performers, actors from street theaters, acrobats, orchestras and many bands from around the city and youth movements participate in the event.

Before that, at 11 am, the Adloyada parade opened in Netanya, celebrating 90 years since the city's establishment.

The Adloyada in Herzliya also marked the 70th anniversary of the state, saluting past Israeli leaders, television and singers, along with a performance that celebrated Israel's achievements in the various sports.

On the Katznelson Street in Givatayim, some 15,000 people participated in Purim celebrations.

Not everything went as smoothly, though.

Thousands of parents, especially children, were disappointed by the Purim celebrations that the Rishon LeZion municipality organized this morning in the city's Independence Park.

Despite the promises, all performances in the compound were canceled due to the lack of security guards there.

"Suddenly they told us that the shows are canceled because 15 security guards were missing and the police did not approve it," Rishon LeZion resident Sivan Bilu told Ynet.

"It's not right, my husband and I took a day off especially for this."

Guy, age three and a half, the son of resident Sima Sapir, also voiced his disappointment.

"I wanted to see the shows, my mother promised me and now there is none," he said. His mother, Sima, added: "It's very disappointing, especially for him, but also for me."

The Rishon LeZion Municipality responded by saying by apologizing for the mishandling of the event, saying that, in light of it, the municipality "will hold a festive performance in the (city's) Gan B'Ivrit starting at 10:30am on Friday. In addition, creative workshops will be held at the event and facilities will be provided."

Itay Blumenthal, Raanan Ben Zur and Roi Rubinstein contributed to this article.