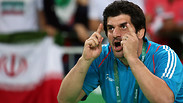 Rasoul Khadem
Photo: Getty Images
Iranian wrestling chief resigns over country's Israel stance
Head of Islamic Republic of Iran Wrestling Federation, Rasoul Khadem, resigns in frustration over government's stance forcing his athletes to forfeit matches to avoid Israeli opponents after wrestler Alireza Karimi suspended for half year, coach for two years.
The head of the Islamic Republic of Iran Wrestling Federation, Rasoul Khadem, announced his resignation Wednesday, only two months after being approved for the position, in protest of Iran's rigid stance on competing against Israeli athletes.

Just recently, Iranian wrestler Alireza Karimi received a six month suspension for losing on purpose to a Russian opponent during the U-23 World Championship held in Poland in November, so that he would not advance to the next round and face Israeli wrestler Yuri Kalashnikov, who won a bronze medal. Karimi's coach, who ordered him to lose the match, was banned for two years.

Watch the Iranian lose on purpose to avoid Israeli opponent

"If we must continue with the policy of non-competition against the Zionist regime's athletes," Khadem said, "the responsibility cannot fall on the shoulders of the coach and the athlete. Forcing an athlete to accept defeat or run around all night looking for a doctor's note is not right."

The Federation's website announced his resignation, quoting Khadem as saying: "I cannot lie. Sometimes the best way to take a stand is not to stand."

Khadem won a gold medal in Atlanta in 1996 and a bronze in Barcelona in 1992. He was twice crowned world champion (in 1994 and 1995) and received the silver medal in 1998.