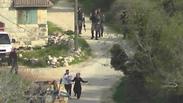 The Yesh Din footage
Photo: Yesh Din
Footage shows Border Policeman throw grenade at Palestinian couple carrying infant
Left-wing Yesh Din group publishes video showing Border Policeman throw grenade at Palestinian couple escaping their Burin home in the West Bank during clashes, stone throwing in region; police: 'Footage edited, Palestinian fled with back to force, which did not see he was carrying baby.'
A video released by the left-wing Yesh Din, Volunteers for Human Rights organization Friday showed a Border Policeman throw a stun grenade at a couple escaping their home in the Burin village near Nablus, while the father carried an infant in his arms.

The event took place near 3pm Friday, according to the group, when IDF soldiers and Border Policemen arrived at Burin's outskirts. It appeared Palestinians began congregating in the region because two Israeli citizens came near the village from the direction of the Givat Ronen outpost.

Yesh Din footage of the grenade throwing incident (צילום: "יש דין")

The soldiers and policemen then allegedly began attempting to disperse the Palestinians using gas and stun grenades. A grenade got into the home of a local family, Yesh Din said, and several of its occupants suffered from smoke inhalation.

An ambulance was then rushed to the scene to remove the wounded, the left-wing organization said, but a Border Policeman nevertheless threw a grenade at the house's escaping occupants—despite the fact one of them was carrying a young child.

The Israel Police responded to the video, and said it showed only "a partial, edited image. During violent riots that broke out on the scene and appeared to have been 'edited out,' dozens of rioters threw rocks at soldiers near and around the home.

"At one point a Red Crescent ambulance sought permission from the force's commander to remove a man from the home near which the Palestinians rioted, and (the commander) acquiesced and allowed for immediate evacuation despite violent, active riots in the vicinity.

"During the evacuation, the force noticed two suspects attempting to flee the scene in which dozens of rioters congregated only a short time earlier, and in response one of the soldiers threw a single stun grenade at them.

"The Palestinian fled the scene with his back to the Israeli force and they therefore could not see he was carrying a baby. Running in that manner is typical of rioters, who throw stones at soldiers at risk to their own lives and then attempt to escape the scene in order to evade arrest at any cost. Had the force noticed the baby, needless to say they would have acted otherwise."

In the midst of Friday's disquiet, an IDF officer was lightly wounded earlier when a stone hit his upper body during riots in Hebron. He was taken for medical attention at a Jerusalem hospital.

Some 600 Palestinians demonstrated in several places in the West Bank while throwing stones and burning tires. Some 400 Palestinians protested at the same time near the Gaza border and threw Molotov cocktails and rocks at the border fence.

The IDF said two of the riots' main instigators near the strip's border were hit by soldiers' fire.