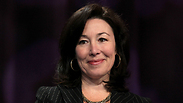 Oracle CEO Safra Catz
Photo: Getty Images
Former Israeli Oracle CEO reportedly on national security adviser shortlist
General H.R. McMaster may leave his position as President Trump's national security adviser later this month, CNN reports; among 3 potential candidates is Oracle CEO Safra Catz, a former Israeli ranked one of the world's most powerful women by Forbes.
Safra Catz, a former Israeli and current CEO of tech giant Oracle, is one of three candidates in the running to replace US President Donald Trump's National Security Adviser H.R. McMaster, who CNN reports may leave his position by the end of the month.

Also in the running are Stephen Biegun, vice president of international government affairs at Ford and former senior staff member of President George W. Bush's Secretary of State Condoleezza Rice, and John Bolton, former US ambassador to the United Nations.

Catz, 57, was born in Holon and raised in Rehovot. When she was six, her family relocated to Boston, where her father—a physics professor—continued his studies at the Massachusetts Institute of Technology. Her mother, a Holocaust survivor, has passed away.

The Oracle chief executive has two children and is a married to a former kibbutz member, Gal Tirosh, a soccer coach she met in the United States. Her children are fluent in Hebrew and the family visits Israel regularly.

Catz holds a business administration degree from the University of Pennsylvania and a law degree from Harvard. She began her professional career in 1986, holding several key positions in the international banking system.

She first came to Oracle in 1999, when founder and then-CEO Larry Ellison offered her to help him with a strategic business move within the company. In 2008, she was appointed to the board of directors of the HSBC investment bank.

In the spring of 2001, Catz was appointed a member of Oracle's board and responsible for the company's global affairs, and has served as its president since 2004—a position she filled along with Mark Hurd.

From 2005 to 2008, Catz was also the company's CFO, a position she returned to in 2011. In this later capacity, Catz was tasked with overseeing mergers and acquisitions—and in 2012 alone she announced ten deals worth upwards of five billion dollars.

In 2009, the Israeli expat was voted number 16 in the list of Forbes's 100 most powerful women. In 2010, she was ranked as the world's highest paid woman by Fortune magazine, drawing a 42 million dollar paycheck for acting as Oracle's president and CFO. In 2012, she was ranked number 10 in Fortune's list of the world's leading businesswomen.